Downed Salesforce systems slow Europe and US
Failing to impress Oracle
---
Salesforce.com systems are calling in sick this Monday. The company's service status page has been winking red X's as the software-as-a-service poster child struggles to wrangle its machinery.
European Salesforce.com customers were left high-and-dry Monday afternoon, while the company's EMEA system took an unplanned two-hour siesta. A few hours later, the company's NA5 (North America) system took a break as well.
At approximately 2:43 PM GMT, Salesforce's techies were roused to investigate an error in both the North American SSL and European systems. Service was restored to American machines a mere 19 minutes later, but the EMEA system proved to be a tougher nut to crack.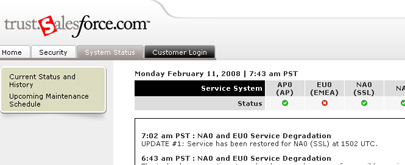 EMEA service was down until 4:44 PM GMT, due to an error later attributed as a failure in the database cluster.
Not wanting to be left out of the fun, Saleforce's North American NA5 system started causing troubles too. The company reported "intermittent service disruptions" at 4:22 PM GMT (8:22 AM PST) and closed down batch services for NA5 about one hour later.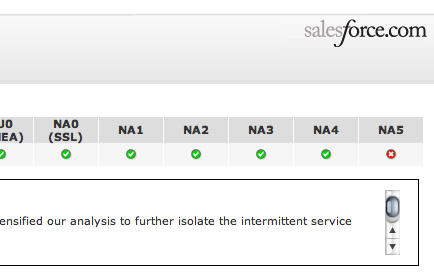 As of this publication, the NA5 system is down. Salesforce.com reports it continues to "intensify" its analysis to isolate the problem. Salesforce PR director Gordon Evans gave us a line remarkably similar to the company's reply to an outage last April:
"We take the success of our customers very seriously. There is no finish line when it comes to system performance."
Playing hard to get, eh? You can check out the systems' status for yourself here.
The outages come at a bad time for Salesforce, since the company has reportedly started shopping itself to the highest bidder - aka Oracle. We doubt, however, that service issues would stop Larry from opening his wallet.
The same cannot be said for customers that rely on Salesforce to run their businesses.®
Update
The NA5 system is back up.
At 10:04 PM GMT (2:04 PM PST) Salesforce posted that it restored service at 10:11 PM GMT. That's a neat trick.
Similar topics
Broader topics