Mobile World Congress Handset manufacturer i-mate has stepped out of the cold and unveiled two PDA devices at this year's Mobile World Conference in Barcelona, Spain.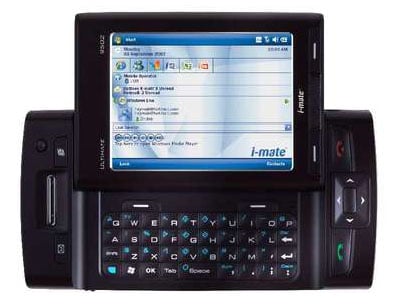 i-mate's Ultimate 9502
The two handsets, dubbed 8502 and 9502, both fall under the manufacturer's Ultimate series, from which three forthcoming devices were believed to have been cut in August last year. Both new PDAs run on Windows Mobile 6 and have a direct Video-Out port, allowing users to connect up to a TV or projector for, say, business presentations.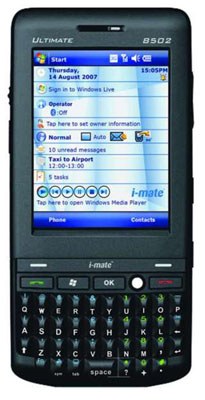 The Ultimate 8502
Quad-band GSM/GPRS/Edge connectivity is supported on both PDAs, in addition to 3.5G HSDPA connections. Integrated GPS navigation, 802.11 b/g Wi-Fi and Bluetooth 2.0 also feature.
i-mate's given the 9502, which looks remarkably similar to Motorola's Sidekick Slide, the largest touchscreen of the two, with a 2.8in display, compared to the 8502's 2.6in screen. Cameras feature on both models, but the 9502 boasts a three-megapixel offering, as opposed to the 8502's two-megapixel snapper.
If either PDA is ever lost or stolen, then a remote lock and data wipe service enables you to prevent unauthorised access and delete the device's content, keeping all your private information, well, private. A 2.5mm headphone jack lets you listen to music stored in a variety of formats, such as MP3 and AAC, whilst video playback is supported too.
Unfortunately, European shipping dates and prices for the 9502 and 8502 aren't known yet.
Mobile World Congress 2008 Complete Coverage here
Similar topics