Mobile World Congress Want a USB Flash drive that has a capacity that can grow? How about Kingston's DataTraveler Micro Reader? It's a 1GB drive that'll also hold Micro SDHC and Memory Stick Micro - aka M2 - add-in cards.
OK, so Kingston's pitching it at mobile phone owners who want an easy way to connect their handset's memory cards to a computer, but since the Micro Reader tucks the memory card slot under a clip-down cover, we reckon its also makes for an upgreadable Flash drive.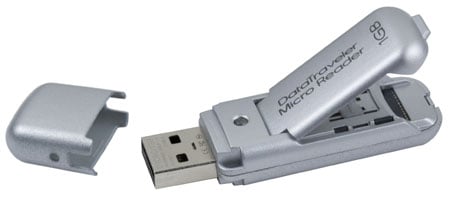 Kingston's Data Traveler Media Reader: the world's first expandable Flash drive?
Since it supports high capacity Micro SD cards, there's room to grow the Micro Reader's storage as add-in cards become more capacious and come down in price.
Handy, that, if you want the drive to make the most of Windows Vista's ReadyBoost technology, which uses USB Flash storage to accelerate system performance. Or if you just want an ever increasing file holder for machine-to-machine copying.
The Data Traveler Micro Reader comes in 1GB and 2GB versions, priced at £11.45 and £16.80, respectively.
Kingston also released a 16GB SDHC card rated at Class 4 - so it has a minimum data transfer rate of 4MB/s. Expect to pay around £130 for it.
Mobile World Congress 2008 Complete Coverage here