Mobile World Congress I'm only here because of a terrible misunderstanding. When the News Editor asked if I wanted to go to "Mobile World Congress", I naturally jumped at the chance. Pictures of caravans, camping equipment and motorized Zimmer Frames swam before my eyes.
You know - really useful stuff. Some of the best design and technology goes into camping clobber these days, and as the proud owner of a JetBoil, I began to plot how I could blag some accessories.
You can imagine my disappointment when I arrived in Barcelona to discover that it's nothing of the sort. It's the bleeding phone show again: the GSM Association having rebranded the industry's annual get-together in a deceptive, new acryonym-free style, presumably to attract more "lifestyle" hacks and hackettes.
But it's phones you want to know about, so here they are. I had a go with eight of the key high-end models today, and here's my extremely prejudiced notebook. (I broke my newly acquired Nokia the other day - the smartest phone of all).
Measured by crowds and TV crews, the biggest attraction is Sony Ericsson's new Windows phone, the Xperia X1 - but I'll save that for last, because there's a lot less to this than you might imagine - and I want to tell you what the Koreans are doing in response to the iPhone, first.
You can already guess what they're doing: they're copying it like mad, but like a Kevin Keegan-coached back four, none of these pieces quite fit together, and a couple shouldn't be there at all.
Let's start with LG, which is promoting its new touch screens with the toe-curling slogan "Yousability".
The accompanying blurb promises "Complexity Lost" and asks:
Take out your mobile phone and set the alarm. How many menus did you have to dig through? How many buttons did you push?
A fair point, and a dig at all its rivals, particularly Nokia, with its knotty and labyrinthine S60 user interface. But then in the very next paragraph, you read this bit:
The LG-KF700 is a gadgetphile's dream, using three input methods, each assigned to the tasks at which it is most efficient.
Uh oh! ... and you know you're in for disappointment.
This is the KF-700 and the three input methods are... a large touchscreen with haptic feedback, an alphanumeric keypad and ... a scroll wheel.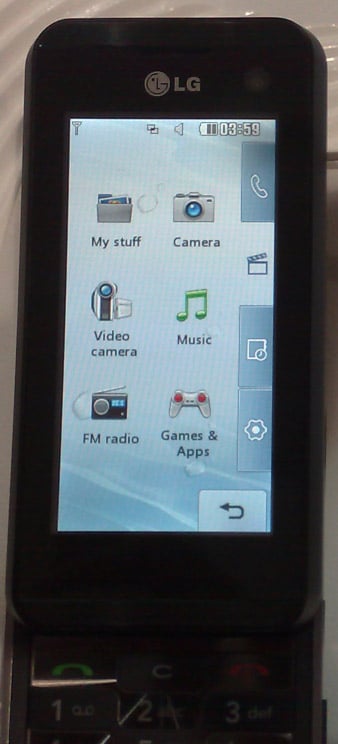 The touchscreen gives you haptic feedback – a little buzz – when you click a control. But it also gives you a little buzz even if you don't activate a control, and just click on some dead space on the screen. So it just buzzes for the hell of it, whenever you touch it. Somebody must have thought that's cute.
I tried creating a text message, only to find that there wasn't a button for "insert contact" or "go to address book". When you use the alphanumeric keypad, it just enters numbers. Similarly, you can't use the wheel to scroll through the UI controls, like you could on a Sony Ericsson P800/P900/P910. So much of the time the wheel is "deactivated". These three UI methods just parts don't fit together.

Onto LG's great rival Samsung, to see how they were fighting the iPhone.
Similar topics