The Ultra III series U900 "Soul", announced last week, was on display here. It turns out to be a nicely made, but utterly unremarkable slider phone with decent sound from Bang and Olufson, and incredibly, a built-in turntable from Linn Sondek.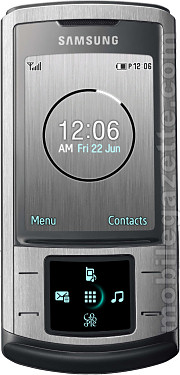 I made the bit up about the turntable, obviously – but you've got to wonder about hi-fi companies whoring out their brands to phone manufacturers. They should remember what's happened to the Monopoly board game. Hasbro, the franchise owner, decided it could exploit local chauvinism by producing editions for places like Kettering and Sutton Coldfield, all plastered with adverts for Mike's Carburettor Center and Mr Patel's corner shop. You just don't want to play Monopoly anymore.
The "Soul" gimmick is that touch pad in the middle there is context-sensitive, so the icons change according to how you're using it. I found it fiddly to use, it's too big for what it offers, and the viewing angle is poor.
(The real Samsung iPhone knock-off is the F480, described here.)
Onto the big guns, then.
Of Nokia's two high-end models, the N96 and N78, I was more impressed by the latter. The N96 takes the sharp edges off its predecessor, the N95, and slims it down considerably, while chucking in a DVB-H tuner.
Given its high price tag, the N78 is likely to have more mass appeal – it's the successor to the N70 and N73 models, but gains Wi-Fi and GPS and an "iTrip"-like FM transmitter.
Nokia were very coy when asked if there were any restrictions on "crossplaying" songs to a nearby phone; but in theory there shouldn't be any – that's the whole point.
(We thought of this years ago, but the manufacturers have yet to catch up).
There isn't anything ground-breaking here, and no show-stoppers. But there are some incremental benefits from integrating these technologies, perhaps. One or two tedious things could get easier. Now that mainstream phones are getting GPS, or geographical location data from the cell towers, this could be put to some use.
For example, when you're sent a map with directions, you don't really want to type the address into Google Maps. The N78 embeds that location into a photo, so you can find a map of where it was taken right off a menu. I can see that being useful. Maybe we'll finally start to see a use for MMS?
Needless to say, there was no improvement on the S60 user interface front - just a couple of gimmicks: the menu "fades" into the standby screen, and the "multimedia" key now invokes a screen that looks like my desk, a jumble of unrelated items piled several high, slightly overlapping. Nothing's readable and it all looks in imminent danger of toppling over.
And believe me, you'll never find anything there. Such is progress for the S60 team.
Over to Motorola, where its Z10 was officially on show.

This is the successor to last year's Z8 "kick slider", or banana phone. It has a few cosmetic usability improvements over the Z8, but these are deceptive – it's completely reworked inside, and really goes like the clappers.
The Z10 can take 10 camera snaps in three seconds, while scaling down and displaying the thumbnails as it goes. This was down to multiprocessing – but what or how (since Symbian doesn't officially support multiple application processor cores yet) is a mystery.
Also impressive was the mini iMovie software, which is well thought out and makes splicing and adding transitions very easy. Perfect for those tender moments that "social media" enthusiasts love to share.
Hazing will never be the same again.
Finally, Sony Ericsson, with its Windows Mobile phone. Designed in San Diego, with help from HTC, this adds an overlay to the standard Windows Mobile UI, which everyone is doing now. It looks and feels much more expensive than the TynTyns, but my hands-on with this was cut short after a few seconds. Switch applications and rotate the device 90 degrees, and panic ensues – "it'll crash!" was the official word.
There's plenty of time to fix this, as it's a 2H 2008 product. Sony Ericsson told us it was designed so the company could crack the US market – so Windows was unavoidable. There's no plan to make a CDMA version.
(More in our interview with SE's CTO tomorrow).
Similar topics