Those of you who can remember when it was all fields round here and kids respected their elders and you could leave your front door open without getting burgled by crack-fuelled hoodies may have a vague recollection of a paper version of El Reg - the first and last issue of Vulture Central's foray into the print media market.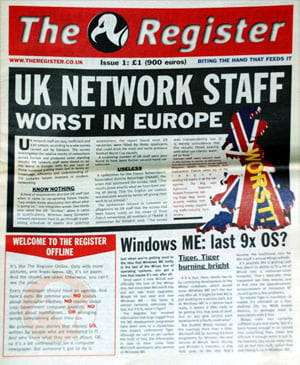 Well, a copy has just popped up on eBay, and is correctly described as a "great collectible" dating from 2000.
What's worth noting about this piece of history is the statement of intent, which promises "NO stories about helicopter crashes, NO stories about crap Government computer projects, NO stories about mainframes... OR whinging temps complaining about their tax".
Well, we're proud to note that we have been able, over the past eight years, to stick to at least one of those commitments.
For the record, the print Reg was put together as a one-off for the 2000 Network Show in Birmingham. Of the 6,000 printed, this is the first one we've seen since, so it may indeed prove to be something valuable to hand down to your grandchildren. ®