IBM's storage hardware lineup is getting a big ol' heap of upgrades. The meaty merchandise menagerie includes an OEM'd Brocade switch, a NetApp array, and upgrades to its archiving system and various disks.
We'd like to think today's sweeping product roll-out is a salute to the birth of Abraham Lincoln, the beloved sixteenth President of the United States.
Legend has it that Honest Abe made the country's first network switch with his bare hands using only wood, beaver leather and railroad spikes (Cedar Fibre, 2Gb/s). He also fabricated a complementary disk array from the spinning ethereal manifestation of justice and can-do spirit.
Great man, Lincoln.
IBM? Oh yes. They released a bunch of stuff.
IBM jumps on Brocade's Backbone
IBM is rebranding Brocade's 8Gb/s Fibre Channel Backbone director switch as the SAN768B.
The new product throws Big Blue's hat into the 8 Gig ring, although the company still intends to support its 4Gb/s SAN256B for an unspecified amount of time.
Both 8Gb/s Fibre and 10Gb/s Ethernet are hot new commodities — and each hardware house is more eager to sell the new merchandise than the next — but alas, the faster protocols aren't quite there with the mainstream. Because brother, the gear ain't cheap.
The SAN768B will be sold later this month at an entry-level price of $390,000.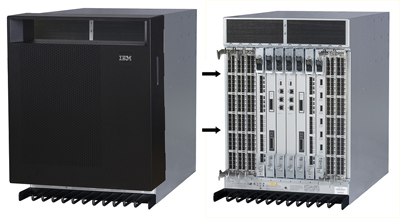 SAN768B: clothed and naked
NetApp arrays also IBM'd
Network Appliance's high-end FAS6000 arrays are entering IBM headquarters and coming out as the new N7000 series. Current N series N3000, N3600, N5300, N5600 and N7800 boxes are getting capacity tweaks.
New N7700 and N7900 models are OEM doppelgängers of the NetApp FAS6040 and FAS6080 devices. They support up to 840TB and 1,176TB raw capacity, respectively.
The devices will be available mid-April. The N7900 starts at $125,00 and the N7900 starts at $190,000.
IBM is also updating the SMB-side of its N series gear. The N3300 and N3600 now support SATA or SAS drives in the controller and receive some additional capacity. N3300 boxes can expand to 68TB, and N3600 boxes expand to 104TB.
Additional capacity has been added to the N5300 (from 168TB to 336TB), N5600 (from 352TB to 504TB), N7600 (from 420TB to 840TB) and N7800 (from 504TB to 1,008TB).
New bundles for DR550
Who does DR2 work for!?
The DR550 archiving system is being re-launched in a what IBM claims is a more cohesive bundling of its core components.
Two flavors available are the DR1 and DR2.
The 25U DR1 system is aimed at mid-market customers with a single controller unit, priced at $26,000. An enterprise-oriented 36U DR2 version ships in single- or dual-node configurations, priced starting at $73,000. Both are set for release later this month.
Pint-sized LTO drives
IBM is pitching new half-height LTO-4 automated tape drives with encryption key management support. The new 19.6TB TS3100 and 38.4TB TS3200 express models offer compatibility with low-end tape automation products.
Both versions will be available next month with the TS3100 starting at $8,300 and the TS3200 starting at $13,605.
DS3000 array made telco tough
IBM has toughened its DS3000 series array to meet telecommunication companies' NEBS uptime standards.
The DS3300 DC is an iSCSI box with high availability features, hot-swappable redundant components and uses DC power.
The array will be available later this month at a starting price starting of $9,495.
Woof! And that's IBM's big list o' upgrades for today. Huge, even. Although Lincoln could have fit it all in a thimble. ®