Camping World Congress We got our mitts on the mystery Communicator from LG at MWC today, and dear reader Kebabster, you are quite correct. The KT-610 isn't going to win any prizes in a design contest. We're not even sure it's a serious product, or just pads out LG's catalogue. But quite a few Reg readers value utility over bling, and this design really has potential.
Nokia created the "Communicator" product category in 1996 and nurtured it lovingly for 10 years (through three different platforms), until blowing it quite spectacularly last year with the E90 – the "Cargo Cult" Communicator.
Designed as the enterprise flagship, the Nokia E90 is still plagued with bugs and complaints from loyal users. The LG quite emphatically shows where Nokia went wrong.
Like all the Nokia Communicators from 1996 to 2006, the front display of the KT-610 looks like a basic phone – and uses its own user interface. Open it up, and you have a richer UI with a QWERTY keyboard. With the LG, the front phone is as basic as they come. You can't punch out a text message without opening the device. There's only five menu options on the front (no sub menus) and only three are visible at any one time.
But open it up, and the QVGA display is clear and sharp, and if you just want to do the messaging basics and run a really simple calendar, that's fine. By eschewing the "do everything" principle, the KT610 might actually be useful for something.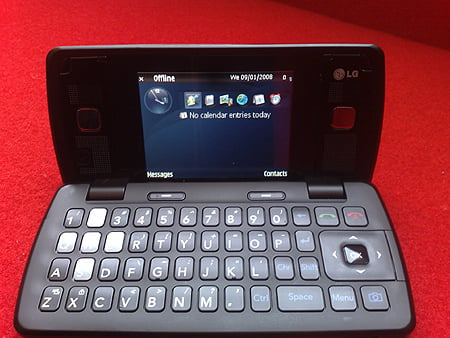 Basic, but functional: LG's not-a-brick KT-610
It's smaller than it looks, at about the same size as a BlackBerry Pearl. But if you're prepared to open up the phone to type a message, you're getting a better keyboard. And phonewise, you're getting an HSDPA (rather than 2.5G) phone.
Strangely, those two silver buttons on the side of the main screen don't do anything – you can't even press them. The QWERTY keyboard is odd, just as Asian QWERTY keyboards tend to be.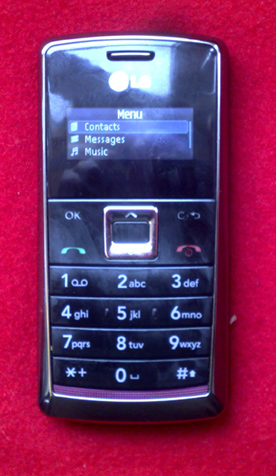 But what this really is, is a successor to the humble pager. Motorola had some success working the clamshell pager design into a phone years ago, if you remember the V100. This was a minor hit with teenagers before the Danger Sidekick came along, and cleaned up.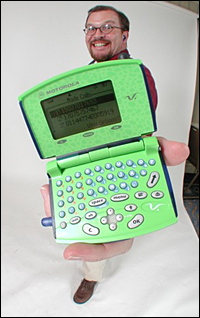 Phones have got smaller since the days of the Motorola V100 - here modelled by a man with a gigantic mutant hand.
I suspect there's a market for a basic phone that doubles as a pager – that isn't a Blackberry. But it sure needs a bit of sprucing up round the front.
Nokia, take heed. We don't need S60 on the front of a Communicator – just something fast and functional. ®