This article is more than 1 year old
Inventor promises bottle-o-wind car in a year. Again
French hot-air jalopy gets Indian backing
French inventor Guy Negre, who has promoted his plan for air-powered cars for decades without significant success, says he has finally secured backing from a major motor manufacturer. Negre's small family design firm MDI has announced a partnership agreement with Indian car giant Tata, and excited reports have it that air-driven cars could be on sale within a year.
Negre himself is slightly more circumspect, merely saying that he "is happy to conclude this agreement with Tata Motors and work together... to develop a new and cost-saving technology for various applications for the Indian market..."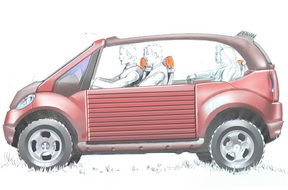 MDI OneCAT: blowing hot and cold for years now ...
The Beeb's environmental-issues people, however, tell us that Negre "has promised that within a year he will start selling a car". This would be sales in France direct from MDI; Tata has not gone firm on any production plans.
The current iteration of the air car seems to be a five-seater variant on the OneCAT designs described on MDI's website. The car uses compressed air from carbon-fibre tanks to drive a piston engine. The specs for a six-seater job claim 22 cv power (French cheval-vapeur metric horsepower units, a trifle smaller than brake horsepower). The new OneCAT should weigh 350kg, according to the Beeb, so the power-to-weight ratio comes out only a little less than that of a Fiat Panda.
That said, the OneCAT is less than half as heavy as a Panda, so it will be much more adversely affected by the weight of passengers and baggage. Even so, assuming the power figures are for real, the quoted top speed of 100km/h seems reasonable.
Negre also reckons the car could go 100km on a single charge of air. The Beeb says that such a charge can be delivered by a "compressor" in just a few minutes, which is true - you'd be talking about a big 300kW/400 horsepower job at least, though, an expensive four or five tonne piece of kit. In the video report, the MDI people actually seem to be using an air bank, which would be cheaper and simpler.