Imagine how impressed your friends would be when you rock up to a fancy dress party dressed just like Master Chief Petty Officer John-117, in a Spartan combat suit. Oh yes.
This dream can become a reality if you can afford to part with at least 850 of your hard-earned - plus £50 for postage within the UK. Check out this listing on eBay: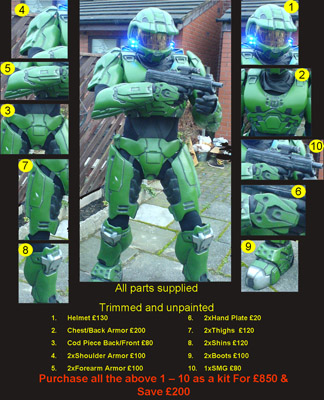 "This auction is for an adult Halo costume armor kit. Made from fibreglass. £850. Parts also available separately. All individual parts are for sale, prices are listed above. The only discount I am offering is for the complete kit. If you don't want a complete kit and just a few parts, please use the price guide above. The suit can be modified to fit a person ranging from 5' 4 - 5' 8. For those who are 5' 8 + the suite will not need modification. The armor parts that you will receive are unpainted, and the flash removed. The armor will require some sanding (keying) before painting."
We've seen Imperial Stormtrooper armour available on eBay since the beginning of time, but a complete Spartan combat environment suit is new to us here at Register Hardware. And if we'd won any cash in that obscene Euro Millions lottery draw last week, we'd have that bad boy right here in the office.
Sponsored: Practical tips for Office 365 tenant-to-tenant migration