This article is more than 1 year old
Lenovo ThinkPad T61
Still a brand to be reckoned with
Review When the world ends in a nuclear glow or a flood of melted icecaps, the final remaining life will be bacteria in the vents of undersea volcanoes and the last piece of technology to give up the ghost will surely be a ThinkPad.
When Lenovo took over IBM's PC and laptop division it raised a question about the future of the ThinkPad brand, so your reviewer is as pleased as punch to get his hands on his first Lenovo-made ThinkPad.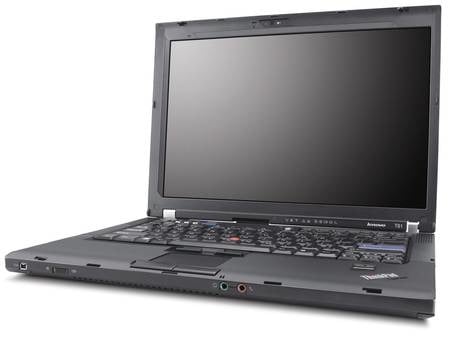 Lenovo's ThinkPad T61:
Let's start with the important stuff. The T61 looks and feels like every other ThinkPad you've ever seen with build quality that appears immaculate. It has a fabulous keyboard and provides both a TrackPoint mid-keyboard joystick and a touchpad. The result is a laptop that is slightly chunky - its dimensions are 335.5 x 237 x 27.6mm - that weighs 2.34kg ready to travel.
The T61 family is extensive and covers a range of laptops that start at £1000 and head up to £2000 depending on your choice of screen, processor, graphics and memory. Our review model was dubbed the ND219UK, and it comes with a 2GHz Core 2 Duo T7300 processor on an 800MHz frontside bus with a GM965 chipset and 1GB of 667MHz DDR 2 memory in a single module. Instead of the integrated Intel GMA graphics core Lenovo has chosen an Nvidia Quadro NVS 140M chip to power the 14.1in screen with its 1440 x 900 (WXGA) resolution.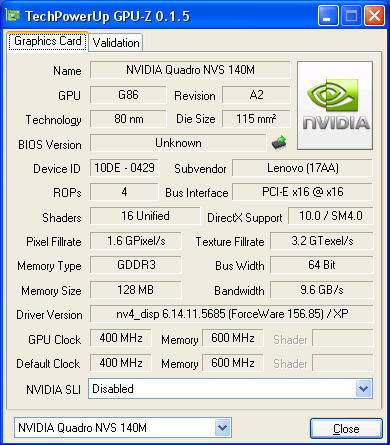 Although the Quadro NVS 140M sounds like it should be a hardcore workstation graphics chip it's actually rather feeble and has a specification that is only just adequate for the task in hand. Despite its name it's actually a mainstream business graphics chip. The maximum digital output is 1600 x 1200 with support for an analogue output of 2048 x 1536, which is presumably the reason why the T61 has a VGA port for a projector or external display but no DVI.