This article is more than 1 year old
Lenovo ThinkPad T61
Still a brand to be reckoned with
We used the bundled copy of InterVideo WinDVD 5 to watch a movie and found that playback was smooth but the image quality was affected by the screen as it has a very narrow viewing angle. You only have to move your head a few inches for the colours to shift to an unacceptable degree. To add to our multimedia woes the SoundMAX HD audio is let down by the speakers. There's no reason why a business laptop should play movies especially well but Lenovo has included an LG DVD-RAM drive and WinDVD software yet the results are disappointing.
Although the NVS 140M chip is a Shader Model 4 part you won't get the benefit of DirectX 10 as the operating system is Windows XP Pro and not Windows Vista. While we're not massive fans of Vista for desktop PCs it seems the better software for a laptop and it would seem to be especially suited to a ThinkPad. Lenovo has included a fingerprint reader in the T61 which links to the Trusted Platform Module (TPM) chip as part of the grandly-named Client Security Solution which is laid on top of XP. Other models in the T61 range use Vista Business Edition, which seems like a better idea as that version of Vista uses BitLocker encryption to protect your data.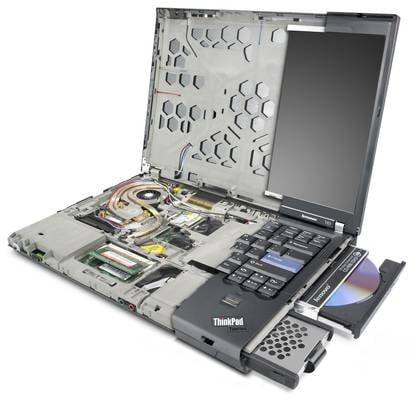 Well built?
The rest of the ThinkPad T61 package has been superbly designed and oozes quality and attention to detail. The blue ThinkVantage button above the keyboard opens up a menu of options that controls a stack of ThinkVantage utilities and settings including, yes, the ThinkLight. This is a small light that lives in the bezel above the screen that is angled down to illuminate your keyboard when the conditions are a bit dim. Nice idea, rubbish name.
On the front of the T61 there's a flick switch that disables the wireless as a handy visual check when you're about to take a flight. With the wireless switched on you can use the ThinkVantage Access Connections software to control the Intel 802.11a/b/g/n wireless and Bluetooth independently of each other, and you also have the wired options of Intel Gigabit LAN and a modem.
Other ports consist of PC Card and ExpressCard slots, three USB ports, VGA output, one mini Firewire port and a Kensington lock.