This article is more than 1 year old
Lenovo ThinkPad T61
Still a brand to be reckoned with
The laptop's two most interesting features are the ThinkVantage Active Protection System that protects your hard drive, and Rescue and Recovery for back-ups and file restoration. Both features centre on the Hitachi Travelstar 120GB SATA hard drive which has about 100GB of capacity once a hidden partition is taken into account.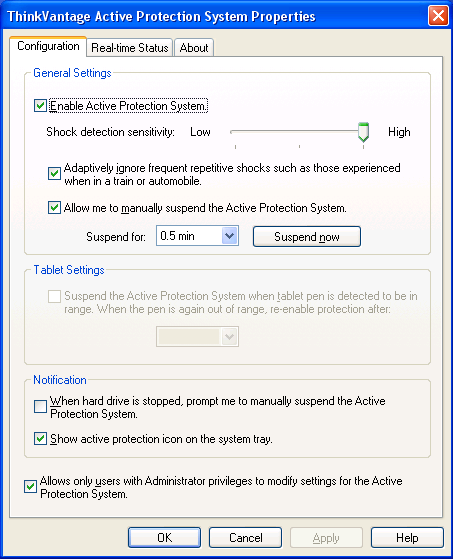 The Active Protection System monitors your hard drive and shuts it down if an imminent problem is detected. You can adjust the sensitivity of the software and tell it to ignore repetitive impulses that indicate a train or car journey. Come the time you drop your laptop or catch it a hefty blow you can hope that the system will shut your drive down to increase its chances of surviving the experience. We have to confess that our testing didn't include a dozen drop tests, just to see what would happen, although it was tempting.
Rescue and Recovery is a back-up utility that allows you to perform a schedule of full and incremental back-ups but the clever part comes when you hit a problem. When you turn the laptop on, just after POST, you can use the ThinkVantage button to call up a recovery console. Once the console is open you can select which files you wish to restore, or you can restore from a previous back-up, or you can restore the system to the original factory condition.
Specifications
OS 32-bit Windows XP Pro
CPU Intel Core 2 Duo T7300 2GHz, 800MHz FSB, 4MB L2 cache
Display 14.1in, 1440 x 900 resolution
Graphics Nvidia Quadro NVS 140M
Chipset Intel GM965 + ICH8-M
Memory 1GB DDR2-667 RAM in one module (second slot is free)
HDD Hitachi Travelstar HTS541612J9SA00 120GB SATA hard drive, 5400rpm
Optical LG GSA-U10N DVD-RAM drive
Wireless Intel 4965AGN Wi-Fi, Bluetooth
Wired Intel Gigabit LAN, ThinkPad 56Kb/s modem
Audio SoundMAX HD
Dimensions 335.5 x 237 x 27.6mm
Weight 2.34kg