This year will see another gruelling sales showdown between the Xbox 360 and PlayStation 3 as they battle it for hardcore gamers' cash. However, the PS3 is eventually expected to become the dominant console.
Market watcher iSuppli this week predicted that the PS3 will sell 10m units globally during 2008, helping to put it far ahead of the analyst's 7.5m sales figure forecast for the Xbox 360 this year. iSuppli also predicted that by 2011, the PS3 will have a global installed base of around 38.4m consoles, compared to just 32.3m units for the Xbox 360.
However, both units will face stiff competition from the mighty Wii. iSuppli believes that the console's strength lies in its broad mass-market appeal, while the Xbox 360 and PS3 are aimed at hardcore gamers.
iSuppli predicts that, by 2011, the Wii will be in second place with an overall 34.8 per cent market share. The PS3 will be triumphant with 35.4 per cent, while the Xbox 360 will trail into third place with a 29.8 per cent share.
Console Installed Base Totals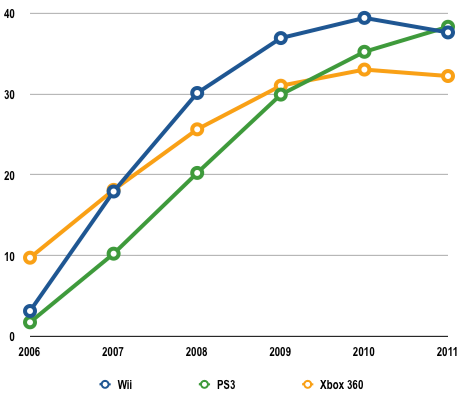 Totals in millions of consoles
Source: iSuppli
The PS3's trajectory over the coming years is entirely upward, but both the Wii and the Xbox 360 will peak in 2010, with their installed base totals falling after that, iSuppli indicated.
That's presumably a result of the arrival of future-generation consoles but also because by that point more people will be chucking out old machines than there are latecomers buying new ones.
The Wii's installed base will this year exceed that of the 360, but it'll take the PS3 two more years to do the same - which is good news for Microsoft.
Sony won't surpass Nintendo by the same measure until 2011, and then only by a small margin. So the Wii is going to enjoy a substantially bigger installed base than its rivals for the next three years.
Recent figures from rival analyst NPD revealed that January's US video game sales were $1.18bn, but that the PS3 only managed to place one title within the top ten list of games: Call of Duty 4: Modern Warfare. It sold 140,000 copies in the US last month. However, games on the Wii and Xbox 360 dominated the chart, with the latter accounting for 330,900 copies of Call of Duty 4: Modern Warfare.
This week, UK market watcher Chart Track published figures showing the PS3 had surpassed the 1m sales mark in 46 weeks. However, the Wii managed it in just 38 weeks.