Griffin Evolve wireless iPod speakers
Sound investment
---
Review Griffin makes some pretty cool bits and bobs for the iPod and iPhone, but its crowning achievement to date has to be the new Evolve iPod dock and speaker set.
At first glance, the Evolve is nothing much more than an iPod dock - a fairly trendy looking iPod dock, but an iPod dock nonetheless. Then you pick up the speakers and notice they are completely wireless.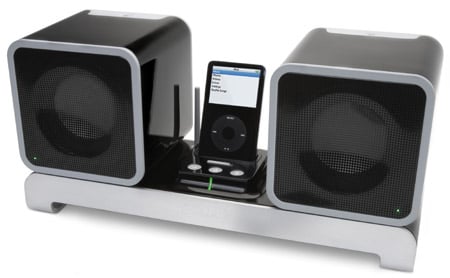 Griffin's Evolve: minimalist look and feel
The whole device subscribes to a very minimalist look and feel, right down to the simple black and grey colour scheme and the basic controls. Each speaker is has just a single button for power and two LEDs behind the grille to show charging status and which wireless channel the speaker is tuned to.
The main unit just has four controls: power, volume up, volume down and a mono/stereo switch, which is particularly useful for the times you want to take just one speaker with you.
The speakers are cubes which measure 14cm on each edge and have a handle located at the back. Personally, we'd have preferred to have the handles located on top, but that's a very minor gripe.
When away from their charging plates on the dock, the speakers will automatically shut off after an hour of inactivity. They can also be turned off and on using their own power button, but won't automatically switch back on unless docked.