Obituary: HD DVD 2002-2008
No flowers, please
That same month, the BDA said Spring 2006 would see the launch of the first Blu-ray players in the West, but in fact it was Toshiba that launched first, unveiling its first HD DVD player, the HD-XA1, in April that year. Samsung, which had already bullishly said it would have the first BD player on the market, first put the release of its BD-P1000 back a month to May, then again to June.

Toshiba's HD-A2 HD DVD player
The BDA went on to add Microsoft's VC-9 - aka VC-1 - video codec to the standard, joining MPEG 2 and MPEG4, already included in the BD-ROM 1.0 spec. The go-to-market spec was published in January 2006.

Samsung's BD-P1000
Late in April 2006, Microsoft's European console business chief, Chris Lewis, dismissed Blu-ray as another Betamax, though MS' own Xbox 360, launched in November 2005, was only fitted with a regular DVD drive.
Throughout the remainder of 2006, companies other than Samsung announced Blu-ray players, but they all came out far more expensive - often more than twice the price - than Toshiba's HD DVD players. Problems getting sufficient blue-laser diodes out of the door hit all the manufacturers hard except Toshiba and Sony - the latter because it was making its own, almost all of them going into the drives that would be incorporated into the PS3, which eventually launched in the US and Japan in November 2006.
The following month, Dell announced its XPS M1710 laptop with an optional Blu-ray drive, and Microsoft rolled out its HD DVD add-on drive for the Xbox 360 - reviewed here.
At the Consumer Electronics Show in Janaury 2007, LG unveiled a player capable of handling both HD DVD and Blu-ray movies, though only BD's interactivity features were supported. LG and Toshiba had agreed to share their optical disc patents, including HD DVD tech, in February 2006.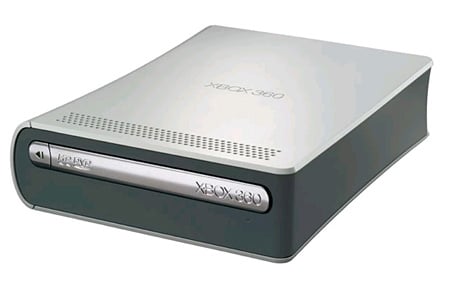 MS' Xbox 360 HD DVD add-on
Warner separately proposed binding Blu-ray and HD DVD discs together, back to back, to create Total HD discs that could be played by any machine. But with Paramount the only other studio at that time supporting both formats, Warner failed to win support for Total HD.