This article is more than 1 year old
Cowon iAudio A3 personal media player
Watch out, Archos
Review There's something almost bespoke about the Cowon A3 media player, a device that seems unapologetically to have had time and money lavished on its technical ability rather than its packaging.
Out of the box, the rather bluff and chunky A3 looks and feels exactly like the Cowon A2, weighing a not inconsiderable 280g for the 30GB version and measuring 134 x79 x 22mm. Notwithstanding the slight retro feel, it's well bolted together out of high quality plastics and looks the part in its understated colour scheme of black and silver.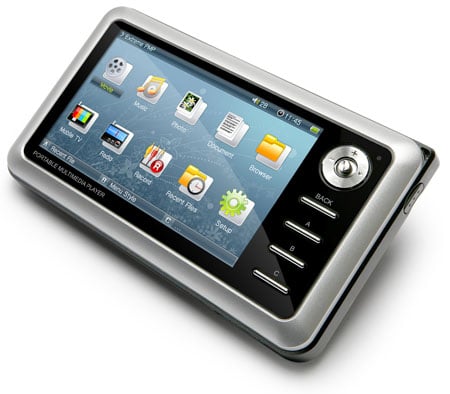 Cowon's A3: understated looks
You control the player using what Cowon calls a "joggle" lever - a circular four-way controller with a fifth, joystick-like button in the middle - a Back key and and three variable-function buttons, all set to the right of the screen. If you touch the screen, all you achieve is getting a fingerprint on it. The control interface is neither funky nor trick, but it does the job. In essence, all you do is use the joggle stick to move from icon to icon then push to trigger. At the bottom of the screen, you can then see what buttons A, B and C do in that particular view. To go back just hit the Back key. Simple.
Other exterior controls consist of the on/off switch on the right side; a slider at the bottom to switch the display from the LCD to the AV port, and which also locks the player; a mic and speaker up top; and, on the left, a 3.5mm headphone jack, power socket and the cover for the plethora of AV jacks.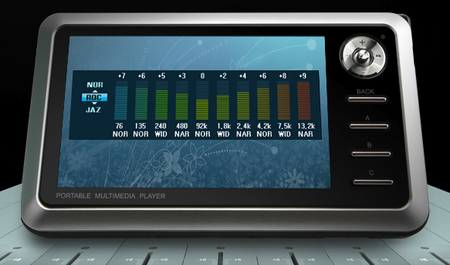 Adjust playback on the fly
The A3's 4in, 800 x 480 resolution, 16m-colour TFT screen is little short of a work of art and makes nearly every other comparable personal media player on the market look like an Etch-a-Sketch. Supporting video resolution up to 1280 x 720 - so we are talking HD here - it's simply a thing of beauty. Bright, clear and crisp with solid blacks, it is by some way the best PMP screen we've seen, besting even the Archos 605.