This article is more than 1 year old
Sony to pump ¥22bn into OLED production
Fat cheque for skinny display tech
Sony will spend ¥22bn (£105m/€140m/$205m) on OLED (Organic Light-Emitting Diode) panel production, part of its attempt to position the ultra-thin display technology as the successor to LCD.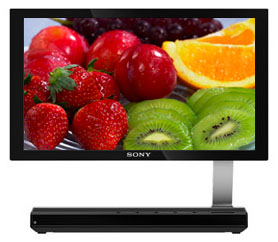 Sony's XEL-1 OLED TV: small screen, big price
Sony plans to spread the cash across "middle and large size OLED panel production technology", starting from April 2009. Sony hasn't said which size displays fall within this category, but has said that the money will be invested in TFT (Thin-Film Transistor) and electroluminescent layer coating processing facilities used to make OLED displays at the Sony Mobile Display Corporation's factory in Japan.
Eventually, Sony expects the investment to see OLED panels implemented in TVs and AV products within its Sony Home, Personal and Professional Displays product divisions. It's already unveiled an 11in OLED TV, dubbed XEL-1, which is just 3mm thick. However, the company will need to rejig its pricing strategy if it wants Joe Blogs to buy an OLED telly, because the XEL-1 currently costs around $2500 (£1000/€1300).
OLED displays have been in development for many years, but production costs have prevented the displays becoming affordable as large TVs for the masses. The screens are said to offer more vivid colours than existing flat panel displays, whilst also consuming less power. Register Hardware's explained the technology in full in a feature on future-display technologies.