Make a note in your diary and start limbering up, because Nintendo has finally revealed that both the Wii Fit and Mario Kart video games will hit the UK in April.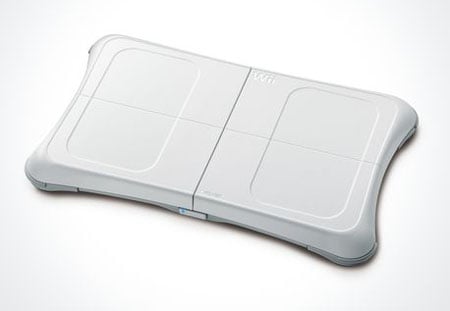 Nintendo's Balance Board for Wii Fit
The official UK release date for Wii Fit, which has already sold over 1m copies in Japan since its release in December, will be 25 April. It ships with a so-called Balance Board that, although looking like a set of bathroom scales, interactively guides users through over 40 different muscle, yoga, aerobic and balance exercises. But, that's more movement than Register Hardware cares to think about without breaking into a sweat.
Mario Kart on the other hand is much less energetic and comes bundled with a Wii wheel, officially dubbed Wii Drive, that incorporates the console's Remote into a central slot. The game will be available in the UK on 11 April.
Although Nintendo's confirmed that Mario Kart will cost £40 (€55/$80) in the UK, it hasn't said yet how much Wii Fit will set UK gamers back. Wii Fit won't be available in the US until mid-May.