HMRC data debacle used to bait phishing lure
Poetic justice restricts success of feeble ruse
---
A phishing attack targeting victims of the HMRC data loss debacle has been spotted on the net. The bogus emails offering recipient the false opportunity to claim a tax refund of £215 from the UK Government over the potential exposure of confidential data. The email contains a web link to a suspect site, reports security firm McAfee, which spotted the ruse.
The ploy takes advantage of the loss of computer discs by HM Revenue and Customs containing the confidential details of 25 million child benefit recipients, including bank and building society details, NI numbers, addresses and child records. The attack follows more than two months after UK Chancellor Alistair Darling announced the loss, so arguably fraudsters have been slow off the mark.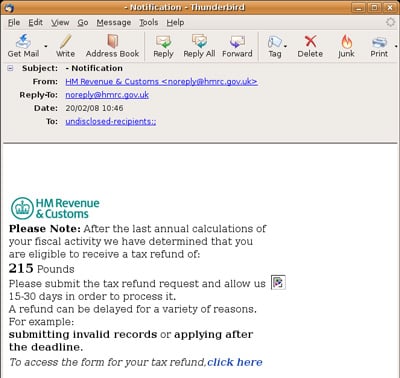 McAfee reports that UK email addresses were targeted in the attack. Similar inducements involving tax refunds over data losses and the IRS service in the US have featured as the lure in US-based attacks. In the case of the HMRC phishing attack potential marks were invited to submit confidential data to a server located in Germany, which has since been taken offline.
The security firm advises net users to be wary of further similar attacks.
"This phishing attack has echoes of traditional get rich quick scams, preying on the desire to be compensated for the Government losing their data, but people must learn that there really is no such thing as free money," said Greg Day, McAfee security analyst.
Day notes that the effectiveness of the attack may have been damaged by the HMRC's tarnished reputation for data security. "Recent high profile data loss incidents have left the public more vigilant about handing over information that has any link to HMRC, so this may not be the most thoroughly considered phishing attack," he said. ®