This article is more than 1 year old
Airline pilot sacked for 777 Top Gun stunt
Wheels-up flypast, 30ft above runway
A senior pilot with Cathay Pacific Airways has been sacked for an "unauthorised low-level flypast" of a new Boeing 777-300ER in Seattle last month, Flight International reports.
Ian Wilkinson had just taken delivery of the aircraft on 30 January and, after take-off from Everett Airport en route to Hong Kong with about 50 to 60 passengers on board, including Cathay Pacific chairman Christopher Pratt, returned to the airfield for "a low-level flypast with the landing gear up":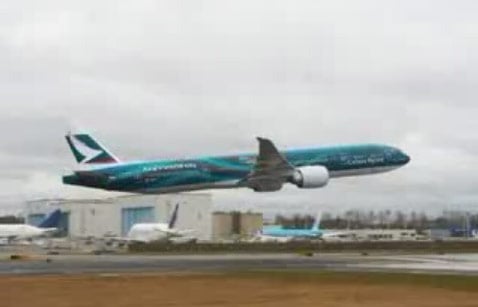 News sources say Wilkinson had obtained permission from the tower for the stunt, but not from his employers. While onlookers applauded the low-level pass, the plane's passengers were said to be "stunned into silence". When footage of the Top Gun escapade subsequently found its way onto the internet, it revealed Wilkinson had taken his charge just 28 to 30ft above the runway.
According to reports, an airline insider said: "We heard afterwards he [the pilot] was asked to do a fly-by of the factory and decided to give them a flight they would never forget. But why he chose to do it with the chairman on board is anyone's guess."
Cathay Pacific was not best impressed, and confirmed that "the pilot in command of the flight concerned had been dismissed as he had not sought nor obtained the necessary company approval to undertake such a fly-by".
It added: "The approval process was not followed in this case, resulting in disciplinary actions. Following the incident, Cathay Pacific has issued a notice to all cockpit crew reminding them of the company's policy for conducting fly-bys."
The airline is now conducting an internal investigation into the incident, "including the collection of flight data, and interviews with the crew involved", and concluded it had "taken the initiative to inform the Civil Aviation Department of the case and a report will be submitted to the department once the investigation is complete".
Ex-pat Wilkinson was a veteran Cathy Pacific pilot in his mid-50s, and earned £250,000 a year as chief pilot for the airline's Boeing 777 fleet. He has refused to comment on the incident and is reportedly considering an appeal.
His British co-pilot Ray Middleton, 47, who "is understood to have taken instructions from Captain Wilkinson and to have been unaware that the fly-by was unauthorised", has been suspended from training duties for six months. ®