This article is more than 1 year old
DivX shutters also-ran cat piano video site
User-generated costs
Media player and format licensing outfit DivX has announced it will close down Stage6.com, its effort at a YouTube-style user-generated video site featuring cats playing piano, dogs on skateboards and mid-Western teenagers miming to Linkin Park.
The firm said it plans to cut the power on 28 February.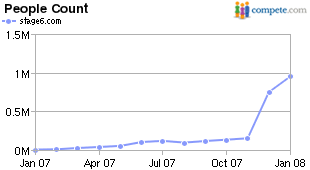 That gradient is bad news if you're not turning views into revenues.
A message posted on the front page of the site explains: "So why are we shutting the service down? Well, the short answer is that the continued operation of Stage6 is a very expensive enterprise that requires an enormous amount of attention and resources that we are not in a position to continue to provide."
DivX says it tried to sell the site, but failed.
Much of Stage6's content appears to be ripped from Japanese animé films and TV shows. Despite apparently having missed out on the cat piano demographic - user-generated video's raison d'etre - Stage6's traffic is actually growing, according to web analytics firm Compete.com (pictured).
Unfortunately, having failed to build a business model, that just means its costs are increasing without bringing in revenue. It's this thorny feature of fundamental economics that a lot of bandwidth-intensive web 2.0 services may come to appreciate over the next year or so.
Hosting and serving web video is indeed a very expensive pursuit, especially at the high definitions offered by Stage6. YouTube was lucky enough to be acquired relatively early in its lifespan by an unimaginably wealthy sugar daddy in Google. That ensured its survival and gave hope that someone might figure out how to sell it to advertisers.
So, so long Stage6, we barely knew you.
But don't worry - there are, of course, still dozens more near-identical sites desperate to spend their venture capital backers' money on providing you with free storage and playback of web video. Hurray! ®