This article is more than 1 year old
Toshiba Portégé R500 slimline laptop
Not as sleek as the Air, but packs more features
The keyboard is full size, but it's rather spongy — indeed the whole wrist-rest area likewise lacks rigidity. But that, we guess, is a result of Toshiba's bid to get the R500's weight down to under 1 kg. Another is the thinness of the R500's lid, but before we come on to that, we should just say that for all the springiness of the keyboard, we found it perfectly acceptable to type on.
The R500's screen-housing lid is scarily flexible. It's hinged only at the very left and right bottom corners, allowing you to bend in disturbingly far in the middle. How, you think, will this ever stand up to the rigours of life on the road? Actually, we can imagine it might work very well. It could give the screen the ability to absorb knocks and bumps that more rigid lids would send straight to the screen, with shattering effect.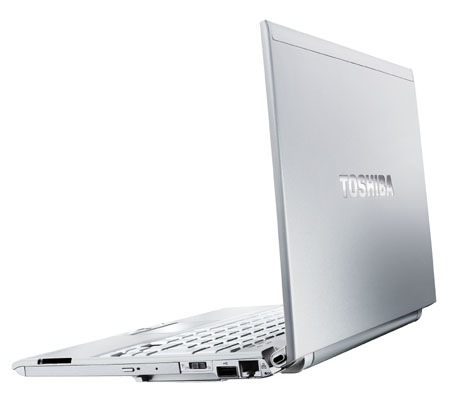 Not as sleek as the Air, but packing more features
That's certainly what Toshiba claims, but even we weren't brave enough to put it to the test. What if the impact was slightly harder than Toshiba's flexible tech is designed to take? The point is, you won't want to be knocking your R500 around any more than you would another laptop.
Bending the screen causes the bevel to detach in the middle, which again might well help the R500 absorb blows, but does nothing for its perceived build quality.
Angling the screen back and forward by pushing and pulling it at the top is easy — the hinges provide just enough resistance to keep the screen where you want it without making it so hard to push that you risk damaging the thing or simply pivot the entire laptop on its rear feet.

Slimline
The display itself has a resolution of 1280×800, and all the pixels are illuminated by LED. It's driven by the Intel 945GMS chipset's integrated GMA 950 engine, which explains the R500's Windows Experience Index of just 2.0. Its 1.33GHz ultra-low voltage Core 2 Duo U7700 CPU and full 2GB complement of 667MHz DDR 2 memory contribute 4.5 and 4.2 points, respectively, while the 160GB hard drive — on our machine split into two 80GB partitions — scores 5.0.
But the overall Index is based on the lowest score, and that's the graphics running Windows Vista Business' Aero GUI. For gaming, the machine scores 2.8.