This article is more than 1 year old
Toshiba Portégé R500 slimline laptop
Not as sleek as the Air, but packs more features
The screen's image is nice and crisp, with better colour reproduction than a standard fluorescent tube-lit LCD. But even on maximum brightness, the R500's panel seems a little dark when placed alongside a laptop with an old-style backlight. The viewing angle's fine in the horizontal, but move the screen forward from its ideal position and the image quickly darkens to obscurity.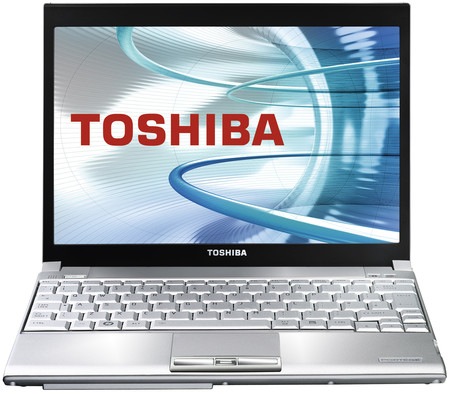 Sharp, bright LED-backlit display
Toshiba has neatly bordered the display with a dark bezel. It's a pity it didn't use the same hue for the rest of the machine. The R500 is kitted out in aluminium-look plastic, a colour scheme that, combined with the lack of rigidity, won't help the machine convince prospective buyers that it's well built. The skinny, lightweight DVD drive doesn't either. Again, it lacks rigidity and feels like it would easily break if knocked.
But then the R500 isn't a machine for folk who expect their laptops to take a few knocks on the way. The price reveals this to be an executive-class machine aimed at folk willing to pay for the benefits of a low-weight computer. It's not for the shove-it-in-a-backpack-and-go brigade. Our test model, the R500-11Z is priced at £1149 before sales tax, so that's £1350 in real money — only 150 quid more than an Air. The R500 family comprises seven members, priced from £1174 to £1761 inc VAT. To be fair, the pricey top-of-the-line model comes with a 64GB solid-state drive.
Toshiba quotes a MobileMark battery benchmark result of seven hours 30 minutes. That's not what we got. Using the R500 for a variety of standard apps — browsing, email, instant messaging, photo editing and, for a short period, H.264 video playback — we got just over three-and-a-half hours out of a full charge.
We ran both PCMark05 and PCMark Vantage on the R500.
PCMark Vantage Results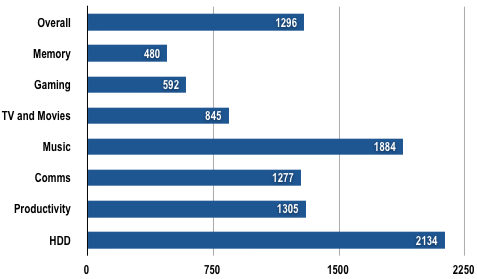 Longer bars are better