MetaRAM double stuffs servers with memory
256GB box for $500k $50k
---
Fred Weber has a good thing going. As CTO of AMD, he spearheaded much of the work around adding 64-bit extensions to x86 processors. Those extensions made it possible for x86 servers to tap vast amounts of memory. Now, Weber, as CEO of start-up MetaRAM, wants to sell you a ton of memory.
MetaRAM has rolled out technology that memory makers can add to their products to increase the amount of data their DIMMs can hold. In fact, companies using MetaRAM's wares can double or even quadruple the capacity of their memory products. Best of all, the likes of Hynix and Smart Modular - two early MetaRAM customers - can double-stuff their hardware without shifting over to pricier DRAM chips.
Overall, Weber sees MetaSDRAM bringing memory performance closer to that of processor performance.
As many of you know, memory speeds have failed to keep up with Moore's Law-blessed processors. As a result, we have 2, 4 and 8 multi-core processors crammed into x86 servers that spend an awful lot of time waiting for memory. In addition, high performance computing (HPC) applications, databases and virtualization software all tend to go after as much memory as they can get.
"The direction over the next decade is clear," Weber told us. "We're moving to multi-core chips that do more software threads. These processors will require much more memory bandwidth."
MetaRAM sells a chipset that slots in between the memory controller and the DRAM. The company's hardware then takes care of some of the electrical dirty work needed to get up to four times as many DRAMs onto DIMMs. Memory makers can take the MetaRAM technology and add it to their products without requiring any hardware or software tweaks.
Weber admits that the MetaRAM magic does technically introduce a "light performance hit" to the memory modules. But, all told, you're only looking at two extra cycles of lag.
You can compare that to 6 cycles of lag for each FB-DIMM slapped onto a motherboard or take note that MetaRAM is doubling/quadrupling the amount of memory in your box for just a few extra cycles.
"When I am fully stuffed, I have added two cycles of latency," Weber said. "With FB-DIMMs, you're adding 40 to 50 nanoseconds of latency. That really shows up. We add a little latency, but it's totally worth it."
The MetaRAM chips also add a couple of watts to DIMMs, although the company has rolled out something called WakeOnUse power management, which turns of DRAMs when they're not in active mode.
"Even though we have more chips, we burn about the same amount of power as standard DIMMs and fit in the same power envelope," Weber said.
As MetaRam sees it, you could take a four-socket box today, stuff it with 256GB of memory and pay about $500,000 for the privilege. By contrast, a system using MetaRAM's chips could come in at $50,000 thanks to the use of cheaper, fatter DIMMs. In addition, an eight-socket box in today's configurations could hold up to 1TB of memory.
Smart Modular has agreed to offer an 8GB DIMM for $1,500 that includes the MetaRAM chipset. That's waaay below the $5,000 that the device would usually cost. As mentioned, Hynix will sell product as well.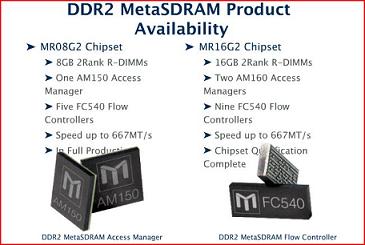 MetaRam's Gear
Weber is encouraged by the prices shown by Smart Modular and Hynix and thinks his company's technology will add some pricing "linearity" to the memory market - where vendors have been fond of kicking the prices of higher-capacity DIMMs much higher.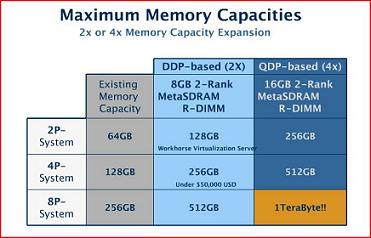 Memory by the Boatload
While focused on DDR2 today, MetaRAM is prepared to piggyback off DDR3 as well.
TSMC makes the chips for MetaRAM, which charges about $200 for 8GB DIMM parts and $450 for 16GB DIMM parts. Both Intel, which has invested in MetaRAM, and AMD are backing the technology, and server makers such as Rackable Systems, Appro and Verari are expected to begin offering the double-stuffed memory soon.
Weber and the MetaRAM team appear to have hit on a very sweet spot of the server market. The hardware makers have been trying hard to keep up with customer demands around memory, and this could help ease some of those issues.
In addition, you can imagine some novel systems arriving on the back of MetaRAM. The company's technology opens up room for more experimentation around in-memory databases and makes buying higher-end hardware more attractive to the average customers, since it lowers the formerly prohibitive memory cost bar.
We're wondering why some of the other major memory makers balked at MetaRAM's initial pitch. They're not slaves to their higher-margins, surely.
You can hear more from Weber on the memory front and the chip game in general here. You'll find MetaRam here. ®