Sony has expanded its H series of advanced digicam shooters with the H50, which ushers in an increased number of megapixels alongside a welcome price drop from its H9 predecessor model.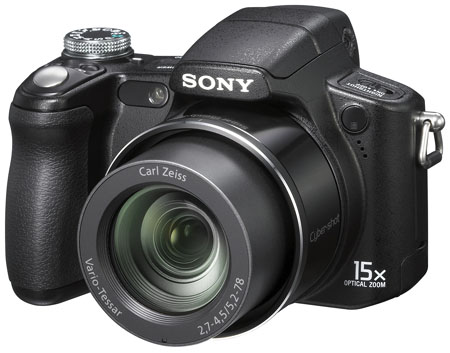 Sony's Cyber-shot H50 digicam, with smile detection and a 15x optical zoom
The Cyber-shot H50 has 9.1 megapixel, compared to the H9's 8.1 megapixels, and you should be able to pocket a saving of around $80 (£40/€65), compared to the H9, because the H50's expected to ship for around $400 (£200/€240). The H50's ISO sensitivity tops out at 3200 and a mode dubbed Bracket Shooting enables users to simultaneously capture three images with different exposure, white balance and colour mode settings, which Sony claims will be an attractive option to photo enthusiasts.
Tilting displays are nothing new - for example, one features on Sony's Alpha 350 Digital SLR - but at 3in the LCD's size is towards the larger end of such displays. Although the camera also has an electronic viewfinder for framing shots, Sony claims the addition of a tilting display adds "an extra dimension of creative freedom". Sony makes no mention of the screen being coated in an anti-glare covering though, so the tilt may just be handy for getting a better view of the action in, say, bright sunlight or from awkward angles.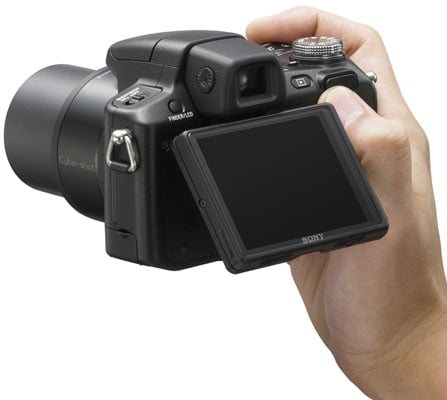 The H50's tilting display could come in handy
Sony's opted to retain the H9's 15x optical zoom lens on the H50, in addition to a face-detection mode that's able to recognise up to eight faces in a single photo. A smile-detection mode lets you pick out smiling subjects, but Sony's been beaten to the mark by the likes of Nikon and General Electric, which both offer so-called smile modes.
It's not all serious snapping with the H50 though, which is housed within a scratch-resistant case, because images can be shown through a slideshow and with a musical background. Re-touching functions then allow users to remove red-eyes and add special effects.
Sony's Cyber-shot H50 camera can be snapped-up from April, but a UK-specific price hasn't been given yet.