Acer Aspire 2920 budget laptop
The notebook for your kids?
Review It's the size of the Aspire 2920 that first catches your eye. Measuring in at 304 x 223 x 32mm, it's not exactly a sub-notebook or MacBook Air, but the Acer is certainly on the smaller end of the scale. The 2.04kg weight suggests that the 2920 might find a home in your hand luggage when you go travelling. The shiny black lid looks quite smart too.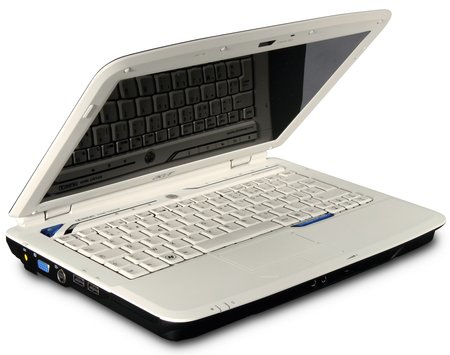 Acer's Aspire 2920: the wrong kind of grey
Initial impressions are very favourable but they take a bit of a knock when you lift the lid and turn the laptop on. The screen only measures 12.1 inches on the diagonal so there's a wide bezel that looks as though it could be a centimetre smaller in all directions, or perhaps the screen could be larger. The cosmetic side of things is a bit grim as the screen bezel, keyboard and keyboard surround are made from a pale grey plastic that looks quite revolting in the flesh.
There are smart greys and there are understated greys, but Acer has achieved the impossible and come up with an upleasant beige grey.
Sticking to the cosmetics, the power button has a blue backlight and there's another blue LED to guide you to the power connector. When you connect and disconnect the power cord the laptop beeps, which is rather unnecessary as the screen brightens and dims depending on which Windows Vista power scheme that you choose. Between these two lights there's a blue activity indicator that flickers continuously, and on the front edge of the chassis there's yet another blue light which is next to a green hard drive light.
None of this is the sort of thing that you want on a business laptop, of course. However, my style gurus - aged 7 and 9 - regarded the Aspire 2920 with wide open eyes and proclaimed it was 'cooool' with four ohs.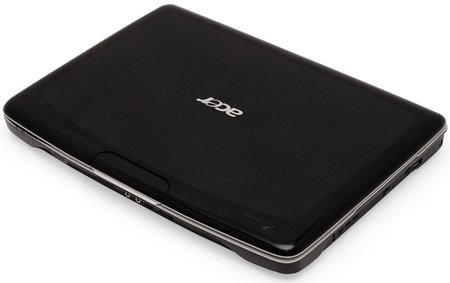 Nice lid, though...
This, it would seem, is the logical market for the Aspire 2920. Forget about the road warrior who might fancy a reasonably small and light laptop but instead go for the Yoof market. The price, £550, is certainly right, and kids are less likely to be fussed about the horribly clicky mouse buttons or the touchpad which is a bit on the small side. Adult fingers might slip off the edge of the touchpad but kids should have no such problems.