This article is more than 1 year old
Canon Digital Ixus 70 compact camera
Minimalist masterpiece
Review Apple has the iPod - Canon has the Ixus. And like Apple, Canon is continually revising and refreshing its Ixus brand. So, is the Digital Ixus 70 a case of a radical product overhaul or just the same chocolates in a different box?
First impressions are that the Ixus 70 isn't the most exciting camera to look at. It's basically a rectangular slab finished in brushed aluminium and black. Now, don't get us wrong, it's not ugly by any stretch of the imagination. Unlike some digital cameras, you wouldn't want to hide it from your friends. Its design tells you that this is a solid, reliable camera – a sort of Ford Mondeo for the camera market.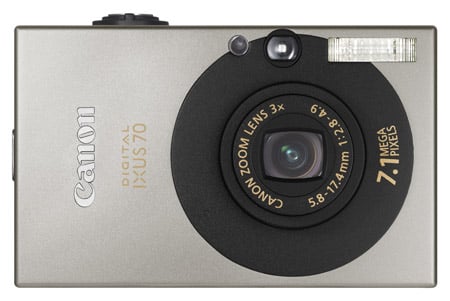 Canon's Digital Ixus 70: the Ford Mondeo of cameras?
The Ixus 70 is pretty compact (85.9 x 53.5 x 19.4mm) and light (125g), so when you're about to leave home, it's not a case of having to stuff a brick into your bag or pocket.
At the front is the lens, flash, pinhole microphone and viewfinder window, although as we'll see, the latter is somewhat limited in terms of usefulness. At the top is a power light, power switch and shutter button. At the front is a small metal tab which is used for operating the zoom.
At the side is a compartment for battery and memory card (SD/SDHC). Round the back, there's a 2.5in LCD screen comprising 230,000 pixels. Also at the rear is a speaker, a mode switch, for selecting camera, movie or playback, and the standard circular controller for setting the flash mode, ISO, macro and delete/drive/timer. A display button lets you change the... er... display mode, and there's a menu button too.