This article is more than 1 year old
Canon Digital Ixus 70 compact camera
Minimalist masterpiece
Canon has equipped the Ixus 70 with a 1/2.5in CCD with 7.1 million effective pixels, a 5.8-17.4mm (equivalent to 35-105mm in 35mm) 3x optical zoom, and a DIGIC III processor, which Canon claims reduces picture noise and extends battery life. As so often on a camera in this price range, there's face-detection technology, red-eye correction and a host of shooting modes (17 to be precise) that include portrait, foliage, snow, beach, fireworks and night snapshot.
There are so several colour effects, including colour accent, which displays just one colour while leaving everything else in black and white – think of Schindler's List and the scene featuring the girl in the red coat. Colour swap lets you change one colour for another.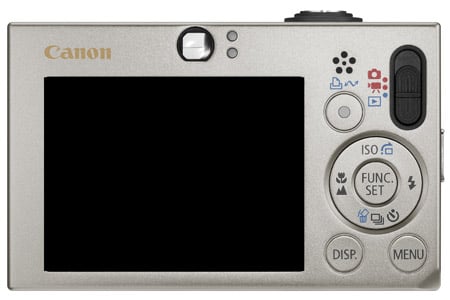 A 2.5in LCD and 17 shooting modes
Picture resolution is adjustable from 3072 x 2304 pixels down to 640 x 480 (VGA), while the movie mode records video at 30fps in VGA resolution. The shutter speed range is 15-1/500s and ISO range is 80-1600. Canon follows the common - and, in our view, regrettable - trend of putting its user manuals onto a CD-ROM in the form of a PDF file.
In fact, the Ixus 70 has two PDF guides, one basic, the other advanced. We're not quite sure why Canon has bothered to print a warning message on the front of these guides, which informs users that they can only be read with Adobe Acrobat installed on your PC...
So much for looks and features - how does this baby handle? Not bad, in fact, although if you have got large hands, you'll probably wish that the Ixus 70 was a tad larger. As with most Canon cameras, there's the fiddly zoom stub to contend with, but power-up is fast and the Ixus 70 is ready for action in a little over a second.