This article is more than 1 year old
'Googirl' unloads on Google Health
A seminal moment
A week after Google announced that a few thousand Clevelanders will soon kick the tires on its long-awaited/long-feared online health service, a company VP with a famous nickname has provided a few extra details on how the service will actually work. And a few screenshots.
"Google Health aims to solve an urgent need that dovetails with our overall mission of organizing patient information and making it accessible and useful," Google VP Marissa Mayer writes on The Official Google Blog. "Through our health offering, our users will be empowered to collect, store, and manage their own medical records online."
Mayer goes on to tell the world why Google Health is loads better than other online health services, including Microsoft's. Naturally, she begins by discussing privacy and security.
"Due to the sensitive and personal nature of the data that will be stored in Google Health, we need to conduct our health service with the same privacy, security, and integrity users have come to expect in all our services," she says. "Google Health will protect the privacy of your health information by giving you complete control over your data. We won't sell or share your data without your explicit permission."
She does not mention a new report (PDF) from the World Privacy Forum warning that the personal health records stored by Google Health aren't protected by the US Health Insurance Portability and Accountability Act (HIPAA).
Regardless of what Mayer does or doesn't say, it's difficult to take her seriously. San Francisco Magazine has just published a feature story on Mayer, and it has chosen to call the piece "Googirl."
Valleywag speculates that the staff at San Francisco Magazine didn't bother to Google googirl. This seemed a little far-fetched until we read the 13-page - yes, 13-page - love letter to Larry Page's former squeeze.
The piece is chock-full of bits like this: "But in person—tonight, anyway—she looks Grace Kelly gorgeous, a tall, blue-eyed beauty with blond hair pulled back from her fresh face. She is much livelier than you might imagine, and her clothes are anything but humdrum.
"For better or worse, Mayer is infatuated with the color purple, and she wears a formfitting deep-purple dress by C.D. Greene with small black mirrors that catch and reflect light. Together with the bedroom's violet walls—replicated from one of her favorite cashmere sweaters—the look announces her love of eye-poppingly bright colors and Marimekko-type patterns."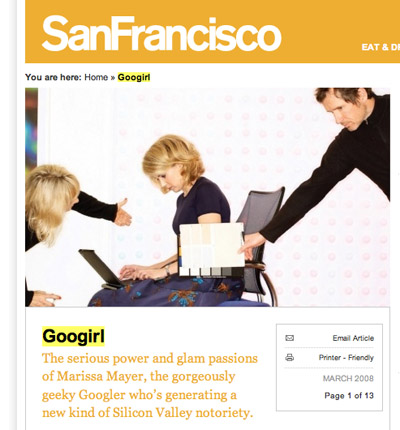 Googirl
After enduring this, um, purple prose - the story goes on to call Silicon Valley "the Hollywood" of San Francisco's Bay Area.
And it now seems that San Francisco Magazine has changed the title of its story. At least on the web. On newsstands, it's still called Googirl.
Valleywag has kindly provided a scan of the page here ®