Swedes demand return of heraldic lion's todger
Nordic Battlegroup emasculated
Disgruntled Swedish heraldists are demanding the Nordic Battlegroup reconsider a decision to emasculate their crest's lion which has seen the rampant beast relieved of his todger.
For those of you not up to speed on the shock case of the leonine penis outrage, the unit's commander - Karl Engelbrektsson - last December ordered the chop "having read UN Security Council Resolution 1325 on women, peace and security", according to The Local.
In a decidedly non-military act of political correctness, Engelbrektsson decided he "did not consider the male appendage an appropriate symbol for his troops to wear into battle" since female civilians were often at the receiving end of sexual abuse in the world's war zones.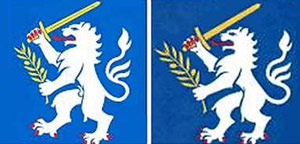 Accordingly, the offending member (see pre and post-op pic), was given its marching orders.
This has not gone down at all well with staff at the National Archives. State heraldist Henrik Klackenberg said: "They stepped over the line when they made alterations to the badge without consulting us. It was a clear breach of copyright."
Heraldic artist Vladimir A Sagerlund further pointed out that "coats of arms containing lions without genitalia were given to those who betrayed the Swedish Crown", and suggested a compromise. He said: "We could make the dimensions a bit smaller, for example. Once we were commissioned to create a similar symbol for Swedish Customs. When they thought it was a bit much they sent it back to us and we just shrank the organ."
While Klackenberg conceded the National Archive would probably not seek legal redress over the absent John Thomas, he said he would appreciate an apology. ®
Bootnote
The Nordic Battlegroup is around 2,400 strong, with roughly 2,000 of its members coming from Sweden. The rest are a mixed bag of Estonians, Finns, Irish* and Norwegians, The Local notes.
Bootnote 2
*The Local really did say "Ireland", which may in fact be Iceland, we suspect.