It's official: Konami has announced that the fourth instalment in its extremely successful Metal Gear Solid series, Guns of the Patriots, will be released across Europe on 12 June.
Konami will whet appetites with a public beta version of Metal Gear Online before the release of MGS4, details of which will be released soon.
Delayed from last year, this latest adventure with former Foxhound black ops agent Solid Snake takes place in 2014, five years after the "Manhattan Incident" - the events depicted in the Plant chapter from Metal Gear Solid 2.
Guns of the Patriots is set in a world where the restriction of military intervention on foreign soil has been eased, fueling the need for private military companies (PMCs) to fight proxy wars for business purposes.
So plenty of guns, tech, shooting and big robots, then.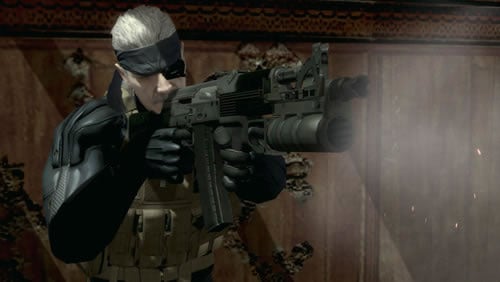 The name's Snake, Solid Snake. That's Mr. Snake to you.
Earlier this week Sony spoke of a MGS4 PS3 bundle to coincide with the US launch, including an 80GB console, MGS4 and a DualShock 3 wireless controller, all for $499. The bundle will only be available in the US.
No mention has been made as to whether the game will utilise the rumble function of the DualShock controller - something the previous games did, making that one of their trademark attractions to PlayStation gamers. But since Sony's bundling the controller in the US, it's likely that it will be utilised fully in the game.
The game will be released on a Blu-Ray disc containing both the game and Kojima Productions' Metal Gear Online, a dedicated online title that uses locations and gameplay elements from Guns of the Patriots.