Adaptec lobs Series 5 RAID controllers at SATA and SAS
So enthusiastic, they skipped Series 4
Adaptec is pushing a new generation of unified RAID controllers today, boosting the performance of its gear and ushering in a 28 port product.
The Series 5 RAID controllers — capable of connecting with both SATA and SAS disks — use the Intel IOP348 I/O processor running at 1.2 GHz. The hardware comes in 4, 8, 12, 16, 20, and 28 port flavors. Cards scale up to 256 SATA/SAS devices for capacities up to 200TB per system.
Adaptec senior product manager Robert Cox said the controllers are well suited for bandwidth intensive storage applications using lots of unstructured data like web hosting, digital surveillance and medical communications.
The new lineup improves upon Adaptec's Series 3 gear, which the company introduced in March 2007. (Odd fact: there is no series 4 line of controllers. Why? "No product classification scheme is perfect," explains Cox. Ah so.)
Cox said the new controllers have a threefold throughput advantage over Series 3 - a feat accomplished by tweaking the hardware innards. For instance, the new controllers received a memory boost over their predecessors, and use a single chip design as opposed to a separate CPU and I/O controller linked by a bridge.
When the new gear hits, the Series 3 controllers will be relegated to Adaptec's "value" line, while Series 5 will take its place in the company's "performance" tier.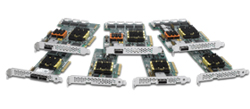 Series 5 comes in 7 models. Bullet points, away!:
52445: 28 ports (24 internal / 4 external), $1,595
51645: 20 ports (16 internal / 4 external), $1,200
51245: 16 ports (12 internal / 4 external), $1,075
5085: 8 internal ports, $945
5805: 8 external ports, $650
5445: 8 ports (4 internal / 4 external), $945
5405: 4 internal ports, $425
The new controllers will be available March 21. In the meantime, Adaptec has put out some internal testing figures available here for the hardware. ®