Apple's Time Capsule: is its HDD really 'server grade'?
Pics suggest Mac maker's using desktop drives
Apple's Time Capsule, which went on sale last week, may not be quite what the Mac maker maintains it is, in the storage department at least.
Time Capsule is Apple's 802.11n Wi-Fi router with an integrated 500GB or 1TB "server-grade hard disk drive", to use Apple's words.
But when one buyer took his TimeCapsule apart, he found his machine contained a Hitachi Deskstar 1TB, a hard drive designed not for servers but for desktop computers: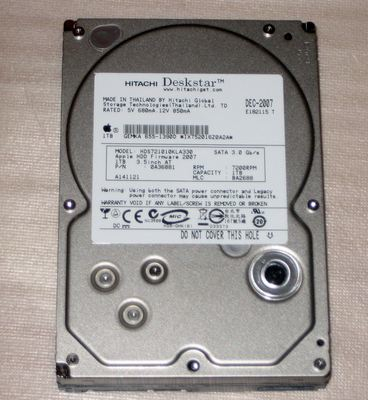 NakedMac's TimeCapsule HDD: Hitachi Deskstar
You can see a full set of Time Capsule disassembly pictures at Nakedmac's Flikr site here, but for now here's another shot: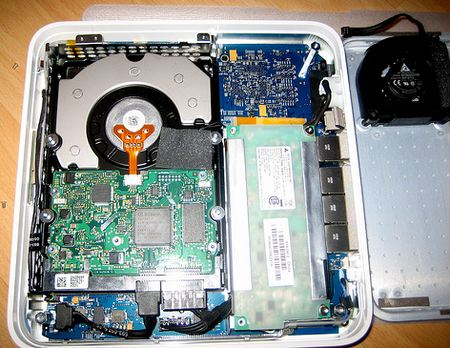 The drive in the Time Capsule may sport an Apple logo that implies it's a custom unit made especially for the company, but Hitachi's only 1TB Deskstar available to all is the 7K1000, which has the model number HDS721010KLA330 - the one on the HDD allegedly taken out of the TimeCapsule
The 7K1000 packs a 32MB cache and spins at 7200rpm. It's a fast drive, but not the sort of HDD usually found in servers.
Indeed, Hitachi offers a server-oriented version of the 7K1000, called the Ultrastar A7K1000. Its specs largely match those of the standard 7K1000, but where Hitachi states the A7K1000 is good for 24x7 availability, it makes no such claim about the Deskstar model.
A case of Apple being economic with the actualité?
Well, Hitachi itself notes that 7K1000 is suitable for applications including "networked storage servers", which is kind of what Time Capsule is, or could be claimed to be. And since the 7K1000 has essentially the same spec as the A7K1000, Apple could argue its choice means punters get a server drive spec at a lower price.
Hitachi's 24x7 rating for the A7K1000 turns out to be limited to "lower duty cycle environments in the enterprise storage hierarchy", so it's not like it's expected to take the thrashing that so many true server drives do.
Still, for many IT types, the phrase 'server grade', while lacking a standard definition, implies a more rugged product than Hitachi's Deskstar, however good a desktop hard drive that model is.