Asus revs compact Lamborghini laptop
Smaller model for city use?
Asus has introduced a compact version of its Lamborghini laptop, redesigning the sportscar-styled machine around a 12.1in widescreen display.
The Lamborghini VX3 will come with Intel's Centrino brand - the laptop has a 2.5GHz, 45nm 'Penryn' Core 2 Duo T9300 on board, an Intel PM965 chipset and the chip giant's 802.11n 4965ABGN Wi-Fi adaptor.
Graphics come courtesy of an Nvidia GeForce 9300, Asus said, which is either a mistake, a desktop part or the as-yet-unannounced successor to Nvidia's GeForce 8M series of mobile GPUs. Whoops. Whatever, it has 256MB of graphics memory.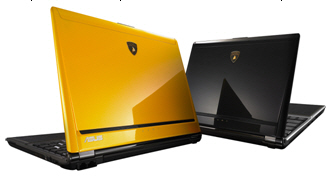 Asus' Lamborghini VX3: Caterham Super 7 of the laptop world?
The VX3 may be compact, but Asus has squeezed in 320GB of 5400rpm hard drive storage; 4GB of 667MHz DDR 2 memory; a dual-layer, Lightscribe-compatible optical drive, a webcam and integrated 3.5G cellular connectivity.
In keeping with the high-end auto brand, the Lambo laptop sports a leather wrist rest, a "sapphire crystal webcam panel" and a :titanium alloy hinge backbone", Asus gushed.
There's no word yet on pricing or availability, but we expect all to be revealed at the CeBIT show, which kicks of in Hannover tomorrow.
Last week, it emerged that Asus' Lamborghini mobile phone, the ZX1, is due to be released imminently.
Related Review
• Asus Lamborghini VX2 laptop