Fujitsu Siemens pitches Eee-style sub-notebook at pros
Launches 1kg Centrino tablet with 8.9in screen
Updated Fujitsu Siemens is taking on the likes of Asus, Toshiba and Sony with ultra-compact 1kg laptop of its own, this one with a 8.9in, 1280 x 768 display and HSDPA/HSUPA 3G connectivity.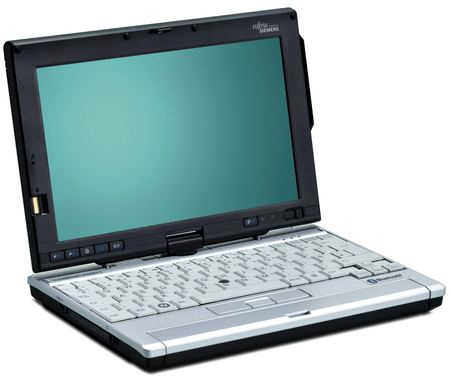 Fujitsu Siemens' Lifebook P1620: Eee beater?
The high-speed cellular technology is optional, but if you don't want to pay a premium for it, the Lifebook P1620 has 802.11a/b/g Wi-Fi built in as standard. Bluetooth too.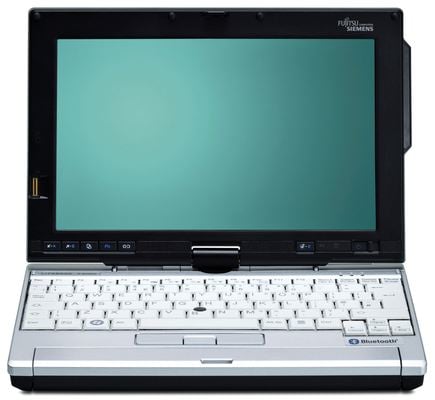 8.9in display
Fujitsu Siemens didn't say much about the P1620's internals, but since it's a Centrino-branded machine, it clearly relies on Intel chippery. Storage? Good question - and when FS deigns to say more we'll fill in the blanks.
Update
Here they are: 512MB to 2GB of 533MHz DDR 2; 60-100GB parallel ATA hard drive; 1.2GHz Core 2 Duo U7600; 533MHz frontside bus; Gigabit Ethernet; and 56Kb/s modem.
Solid-state storage on board?
We can say it has a couple of USB 2.0 ports, a fingerprint scanner, audio ports, an SD memory card slot and a PC Card slot. There's no touchpad, it seems- the P1620 relies instead on a ThinkPad-style joystick. There's no internal optical drive so far as we can see.
The sub-notebook measures 22.8 x 18.3 x 3.3cm.
The battery's a three-cell unit capable, we'd say, of running the P1620 for four hours, based on what FS claims for the optional six-cell power pack.
Not just a sub-notebook, the P1620's also a tablet, with the screen, once opened, able to rotate 180° in either direction. Set to be pitched at professionals, the laptop comes with a fingerprint sensor.
Prices from Fujitsu's US website range from $1749 to $2224 (£881-1121).
Thanks to everyone who mailed in the US specs.
Related Reviews
• Toshiba Portégé R500 slimline laptop
• Maxdata Belinea s.book 1 sub-notebook
• Asus Eee PC 4G sub-sub-notebook
• Sony VGN-TZ11XN/B laptop