This article is more than 1 year old
Intel launches Atom brand for UMPC CPUs
Centrino version too
Intel has launched 'Silverthorne' and 'Diamondville', its two processor families developed from the ground-up for UMPCs and low-cost computers like the Asus Eee. Both will be made available as the Atom processor and platforms based around them as Centrino Atom.
The Atom CPUs are Core 2 Duo compatible. Fabbed at 45nm, they consume between 0.6W and 2.5W, and are expected to run to 1.8GHz, though Intel's not yet saying at what clock frequencies the parts will initially be set to.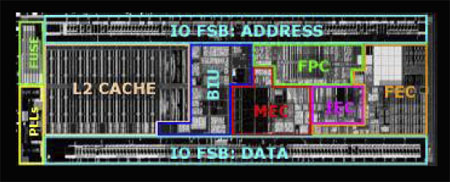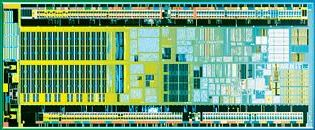 Intel's Atom: inside...
Indeed, right now, Intel's keeping quiet about the platform's speeds and feeds - it'll presumably say more at its Intel Developer Forum conference, due to take place in Shanghai later this month.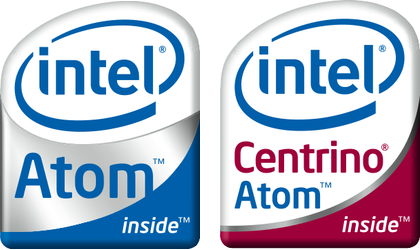 More device stickers...
However, recent reports out of Asia suggest the Diamondville Atoms will debut as the desktop-centric 1.6GHz 230, which will connect across a 533MHz frontside bus and contain 512KB of L2 cache. A mobile version, the N270, will also be offered - this is probably Silverthorne.
Both CPUs are single-core chips, but Intel has brought back its HyperThreading technology to allow the chips to appear to the host operating system as dual-core processors. Intel last used HT with the old Pentium 4 family, but it's also expected to play a major role in 'Nehalem', the next-gen Core 2 successor due at the end of the year.
Centrino Atom comprises an Atom processor, the chipset formerly known as 'Paulsbo' and presumably a Wi-Fi module.