Route 66 Mini Regional
Bargain
Review If good things do indeed come in small - and cheap - packages then Route 66 should be on to a winner with its pocket-sized Mini satnav.
At the same time 'small' could equally mean the screen is illegible, while 'cheap' could mean that when you ask it to take you to Dorking it takes you to Skegness instead.
With external dimensions of 95 x 81 x 19.5mm, a weight of 149g and a price pegged at under £100, the Mini is one of the smallest, lightest and cheapest standalone satnavs on the market.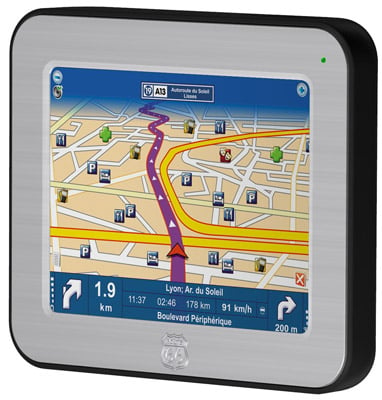 Route 66 Mini: complex junctions can be hard to fathom
Out of the box, the unit is well made and not bad looking in its silver and black livery. The solid and easy-to-use on/off switch also belies the Mini's price.
The bundled screen clamp isn't the most advanced in the world and the flexible arm needs a fair amount of effort before it actually bends. We thought it was rigid until we gave it good tug, but once set to the desired angle it works well enough and attaching/detaching the main unit is easy enough.
While bright and clear, the screen is only 3.5in in size, so using the touch keypad can be a little hit and miss. The Mini's menu structure is straightforward, but the best way to use it is often to detach it from the cradle and do your typing with it in hand - not good for on-the-move adjustments, though.
The maps, based on those developed by Route 66 for the Nokia 6110 Navigator, can best be described as functional. While they give a perfectly clear and legible picture of most road layouts, complex multi-level junctions can sometimes be just a little hard to fathom. The road you are on shows up in one colour while any upcoming changes of route show up in another - a simple but effective aid to navigation.