T-Mobile Germany schafts Nokia
The radical price of zero handsets?
Nokia's "All Your Base" services strategy looks like it's hitting more resistence - from Nokia's biggest customers. T-Mobile Germany is dropping handsets which carry Nokia's Ovi portal and services, according to reports.
Nokia announced a huge new services initiative in late August. Under the Ovi umbrella brand and portal, Nokia will offer games, maps, music, and a clutch of me-too Web 2.0 services to its phone users. This bypasses the network operators, who subsidise the phones, and fancy a slice of that services revenue themselves. Naturally, since they own the billing relationship with the punter.
The WirstschaftsWoche news site notes a diminishing number of Nokia handsets available through the German operator: from 15, down to 10. That's not the most convincing evidence of a snub: T-Mobile UK carries 10 Nokia handsets on contract, with two additional models on pre-pay. And while Orange UK snubbed both Nokia and Motorola in its autumn range, it has since eased up: carrying a dozen models.
Shortly after the Ovi launch, key operators mysteriously refused to stock Nokia's flagship music phone for Christmas - and its principal iPhone competitor - consigning the handset to an early death.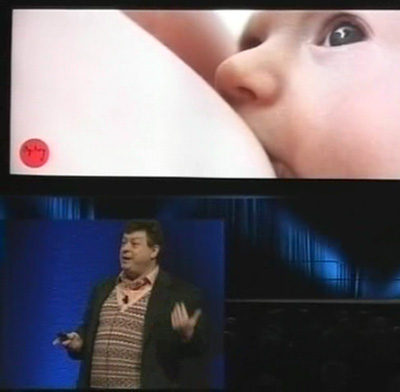 Fat ad bloke Rory Sutherland, VP of Ogilvy, wows Nokia bloggers with recycled new media 2.0 cliches
The magazine quotes T-Mobile as saying negotiations are continuing with Nokia over Ovi, with the giant operator confident it can close a deal. With Nokia's customers able to brandish the ultimate sanction: choosing handsets from stylish rivals like Samsung and Sony Ericsson - this may simply be a negotiating ploy.
And therein lies the danger for Nokia, which has gladdened the hearts and swollen the expense claims of advertising and marketing consultants since it set its heart on Services 2.0 last year. Here's an example:
At the same event for bloggers and analysts, Nokia invited Chris "Long Tail" Anderson to give a speech about how companies should give stuff away for nothing. His next book is provisionally titled "Free! Why $0.00 Is the Future of Business".
Marketing consultants cash-in on Nokia (Part Two): state the bleeding obvious
Giving valuable services away for nothing undoubtedly makes Nokia's handsets more attractive, and provides plenty of scope for business model "innovation". Note, for example, the ground-breaking deal with Universal whereby the punter gets free music for a year, and gets to keep the music afterwards.

Marketing consultants cash-in on Nokia (Part Three): flatter the client
However, giving all that valuable stuff away is expensive.
Last year, Nokia splurged almost €8bn on a mapping company that's incompatible with its current Maps offering. Its music budget is rumoured to be $1bn - and has already invited some ridicule.*
If network operators gang up to drive down the price of Nokia handsets, and the company itself continues to pour billions down the services drain, the only beneficiary will be its competitors.
In which case, "$0.00" isn't the "Future of Business" - it's the fastest way of going broke. ®
*Bootnote The first big name to endorse Nokia Music was Dave Stewart - prompting industry newsletter MusicAlly to ask, sarcastically, can David Bowie be far behind? Actually, he's already on board.