Bronze PSP en-route to Japan
And what do we get, Sony?
Sony has again favoured its Japanese gamers first and launched a special edition PlayStation Portable (PSP) in a bronze-coloured shell.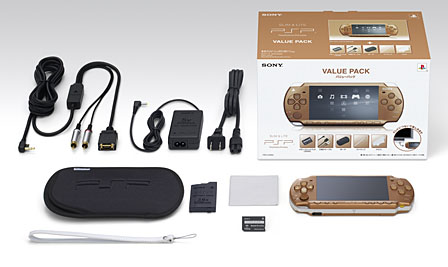 Sony bronze PSP bundle pack is only for Japan, so far
Despite Japan already having taken delivery of the ceramic white PS3 and readying itself for the satin silver model in two days' time, Sony still feels Japanese gamers' tastes aren't catered for fully enough and so has unveiled the re-sprayed console in a new bundle pack.
PSP bundle packs aren't new - black, white, red God of War-themed models, and even a Simpsons-esque yellow variation have already been created. The bronze edition includes a host of goodies, including a carry pouch, strap, 32MB Memory Stick Duo and charger, in addition to the console itself.
The bronze bundle pack will cost about ¥23,800 (£115/€151/$230) when it's released there on 24 April. No word yet on a UK release yet.