Hauppauge preps portable Freeview player
Walk and watch
Hauppauge is well known for its PC add-ons that let us all watch telly on our desktops, but the manufacturer's branching out and has created a Freeview-enabled portable media player (PMP) to turn us all into portable telly addicts.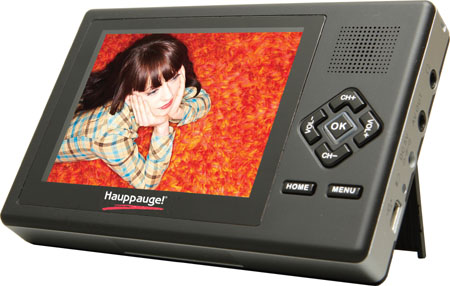 Hauppauge's PMP: perfect for portable TV and music?
The unit has a 3.5in display with a 320 x 240 resolution, and an integrated Freeview TV tuner that'll mean you never have an excuse for missing Eastenders again. An electronic programme guide will also allow you to schedule your daily viewing.
An integrated slot for SD and MMC memory cards lets you display a selection of still images, videos and music formats, such as JPEG, MP3 and AVI, respectively. A USB port means auto-synchronisation with, say, Windows Vista is possible.
Alas, you can't save Freeview programming onto the memory card.
The company's also launched the HD-PVR USB stick that's designed to take a variety of 720p and 1080i resolution HD video formats and re-encode them as iPod- and PSP-friendly H.264 files at up to 13.4Mb/s.
That puts it one up on Elgato's Turbo.264 - reviewed here - which does the same basic job but is limited to working with standard definition content. Hauppauge's offering is bundled with software for mastering Blu-ray Discs too.
You'll be able to snap up Hauppauge's PMP from April for €149 (£100/$200), although the HD-PVR hits the shops this month, for €200 (£150/$400).
Related Reviews
• Hauppauge XFones PC-2400 wireless headphones
• Hauppauge WinTV Nova-TD USB TV tuner