iPhone may sidestep rubbish caller ID suit
'Because the iPhone is rubbish too'
At least one Reg reader believes that Apple will dodge a recent lawsuit tossed at its caller ID function because the iPhone's caller ID function is a piece of trash.
Last week, we dutifully reported that a man named Romek Figa has sued Apple for violating his patent on "an automatic incoming telephone call number display system for detecting an incoming call and identifying the party associated with the incoming call number". Figa's display system looks a little like this: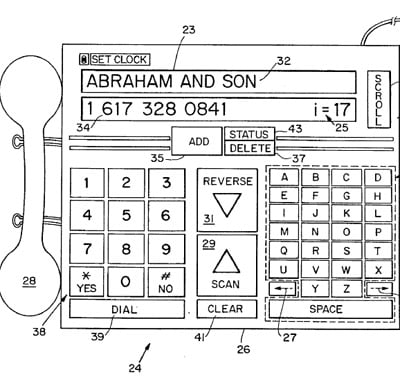 Not a rubbish iPhone
Much like Apple's handheld status symbol, the FigaPhone "includes a directory of telephone numbers and parties associated with those numbers," and it's equipped with "circuitry that detects the origin telephone number of an incoming telephone call and compares that number with numbers in the directory for identifying the calling party."
But our loyal Reg reader - who will remain anonymous so that he can live a long and happy life - believes Apple has nothing to worry about. "It could be argued that the address-matching function on the iPhone doesn't work well enough to infringe the patent," he says.
This reader does a fair amount of long-distance calling, so his address book is packed with international codes. "I have all my contacts saved with the international direct dial (e.g. +44 12345678)," he explains. "When I receive a call from 012345678 (being a UK number received when in the UK), the iPhone fails to match that number to a number within my contacts list."
But there's more. "When I'm outside the UK and it shows as 004412345678 (if in US) or 4412345678 (when in continental Europe)," he adds, "it also fails."
His only option is to triple the size of his contact list. "The only solution at the moment is to have the following entries in my address book: (m) 012345678, (m) 004412345678, (m) 4412345678."
In short, he thinks Steve Jobs has completely screwed him over. "For a company that is so focused on usability, that's pretty rubbish isn't it?" ®