Minox DC 7411 digicam
Slimline snapper
German camera manufacturer Minox has unveiled a slimline camera that packs enough features into its anodised shell to make it a certain rival to mid-range digicams already on the market.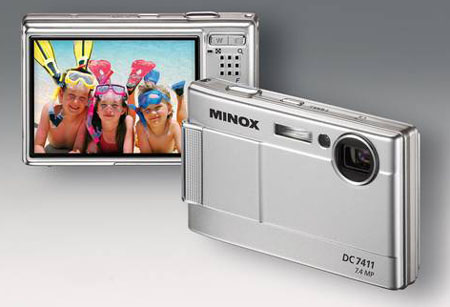 Minox's DC 7411: 7.2 megapixels
The DC 7411's 7.2 megapixels don't put it at the top of the CMOS sensor tree - Sony's W300 boasts 13.6-megapixels, for instace - but a 3in LCD display is slightly larger than the average camera in this class is equipped with. It may be Minox's slimmest digicam ever, but the model still manages to integrate a 3x optical zoom.
A specialist mirror alignment structure means the camera's lens doesn't need to pop out from the camera's body to focus, as it would with most digicams. An image stabiliser is built into the camera, so your pictures should be shake free, and Minox claims long exposure images will also be equally well supported through the camera's anti-shake technology.
A top ISO sensitivity of 1000 is pretty poor on Minox's part and doesn't give users much choice on how best to set-up the camera for varied lighting conditions, especially when you compare it to the ISO 6400 available with Panasonic's Lumix DMC-FS3.
Pictures are stored onto SDHC memory cards of up to 4GB and the Minox snapper has an internal memory of 32MB, although that's not likely to last long. The camera's also compatible with the PictBridge direct printing standard and includes a USB 2.0 port for direct connection into a PC.
Minox, which has been manufacturing cameras since the early 1900s and for years produced 8 x 11mm film format snappers, hasn't announced the pricing and availability of the DC 7411 yet.