Steve Jobs talks open source with El Reg
*Not really. But FSJ does
Radio Reg The Register, as many of you know, enjoys enormous pull with Apple.
From developer conferences to product launches, we're at the top of Apple's "we'll allow you to pay attention to us" list. Such a privileged position is a privilege - one that we take very seriously and brush every night.
I only bring all of this up to explain the presence of Apple's CEO Steve Jobs on Episode 12 of Open Season. This is sort of like the virtual equivalent of man walking on the moon. Feel the excitement. Grip it, and rip it. This is the show to end all shows. A penny saved is a penny earned.
Okay, okay. So we didn't really pull Jobs, although we'd like to, if you know what I mean. We pulled something even better - Forbes editor Dan Lyons - aka Fake Steve Jobs. This dude may not run Apple, but he's still a huge web celebrity - his own magazine said so.
Dan joined me, Alfresco's Matt Asay and Mulesource's Dave Rosenberg for the usual Open Source extravaganza. We mocked Microsoft; we mocked Suse; we mocked the end of gay open source culture. Ultimately, however, the three regulars sat back and listened to the Chief Freetard.
Regrettably, the audio quality for this show was not our best. The Skype Gods were angry, and my inability to purchase Dan a proper headset didn't help matters. There was only enough bandwidth to support a shorter, choppier show as well. My sincere apologies.
Still, Dan is hilarious, and I think you'll enjoy the show.
The faithful can grab the Ogg Vorbis file here, those plagued by low-bandwidth can catch a smaller, crappier quality show here and those of you with macho-sized bandwidth can get the big daddy here.
You can subscribe to the show on iTunes here or grab the Arse feed here.
Show Notes
Thanks for your ears. ®
Matt's Pie of the Week
The pie is affectionately named after Irma Waite, a little German lady who used to live next to me. The recipe is hers, though I have made modifications to it. She is an absolute master baker. (You'll find the crust recipe for this pie here.)
Irma Waite's Coconut Cream Pie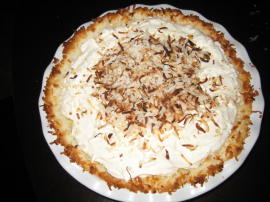 Matt's Delicious Pie
2/3 cup sugar 1/2 ts salt 2 1/2 TB cornstarch 1 TB flour 3 cups milk (I generally do 1/2 to 2/3 of the milk with real coconut milk, which you can buy in the Asian foods section of most grocery stores; the rest I use whole milk. In the Bay Area, use Berkeley Farms Extra Rich Whole Milk) 3 egg yolks (slightly beaten) 1 TB butter 1 1/2 ts vanilla 3/4 cup moist, shredded coconut (I've actually done the shredding before, but the taste payoff isn't worth the extra effort, in my opinion -- I like prepackaged coconut just fine). Also, I end up throwing in as much coconut as I think tastes good, so use the 3/4 amount as a general guide.
Mix sugar, salt, cornstarch, flour. Stir in milk gradually. Cook over moderate heat, stirring constantly until mixture thickens and boils. Boil 1 minute. Slowly stir half the mixture into egg yolks, then blend into hot mixture in saucepan. Boil 1 minute longer, stirring constantly.
Remove from heat. Blend in butter and vanilla and the coconut (to taste). Pour into baked pie shell. Let chill.
For whipped cream, I make my own. Heavy whipping cream, vanilla (1 ts or so), and some powdered sugar (1/2 cup (To taste -- I don't like it to be too sweet, because I like it to counter the sweetness of the coconut cream.). Beat in a chilled bowl.
Take some additional coconut, toast it, and throw it on top. It adds a nice decorative touch, and tastes good, too.