Onyx Liscio micro mobile phone
Small of stature - and of feature list
Review Leaving your all-singing, all-dancing mobile phone behind when you slip out for the evening is a terrifying thought for some people. So any handset manufacturer advocating the idea of keeping your Nokia N95 or LG Viewty at home in favour of a secondary handset needs to have something special on offer.
On first inspection, the Liscio, which manufacturer Onyx claims is ideal for anyone that doesn't want to carry a large handset around, is a stylish device. Its mirrored surfaces reflect light from all angles, and the diminutive 90 x 35 x 18mm dimensions and curvacious casing ensure it slips comfortably into handbags and manbags alike.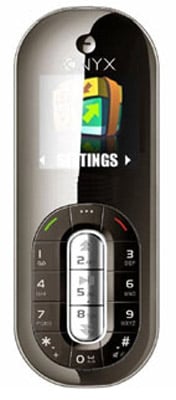 Onyx's Liscio: mirrored surfaces
The Liscio's display is the first major stumbling block, upsetting its otherwise flawless façade. Although it boasts an OLED screen, you'll need a magnifying glass to make any real use of it because the screen measures just 1.1in in the diagonal. It's readable, but compared to the displays found on many mainstream handsets, OLED or not, this is way too titchy.
The phone's keypad draws your attention away from the small display, but only because its elliptical shape means that anyone with less than dainty fingertips will find it difficult to use because during tests we often caught two keys at a time, resulting in some very badly-worded text messages.
Both sexes will be able to make use of the multifunction keys, though, because the Liscio's central buttons, shown in a vertical silver column, also act as shortcuts for the phone's MP3 player. A jog-dial on the phone's side easily lets users navigate through its other features.