The Bluetooth headset for your neck
"Meep meep!"
Bluetooth headsets are well known for slipping from their position while you're rushing around town jabbering into one. So an alternative design's been drawn-up that wraps around your neck to connect up with your voicebox.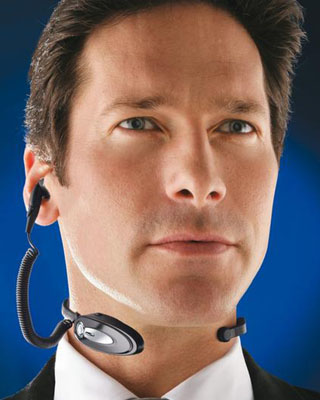 RoadRunner collects sound from a microphone near your larynx
The RoadRunner has a microphone unit on one side that lies next to your voice box to collect sounds transmitted from the larynx. Although it'll make you look slightly like an army commander, the advantage is, online retailer Pro-Idee claims, that the RoadRunner holds its position more securely than traditional Bluetooth headsets. A coiled cable connects from the neckband to a speaker in your ear.
While the unit's microphone can rotate 180°, it also provides up to nine hours' talk time or seven days' standby life from a two-hour charge. Pro-Idee claims RoadRunner's suitable for all types of activity, including jogging and skiing, although how many people telephone and ski simultaneously is debateable. Bearded men are also catered for too, the retailer claims.
You can buy the RoadRunner online now for around £40 and it's available in several neck sizes.