SanDisk finds new use for ExpressCard SDHC adaptors
Auto back-up for key files, anyone?
CeBIT Having a problem selling ExpressCard memory card reader accessories? Then take a leaf out of SanDisk's book and re-position your add-on as a automatic back-up gadget for laptops.
SanDisk's FlashBack is an SDHC-compatible ExpressCard 34 add-in that the company's bundling with software that "automatically and continuously" backs up data to whatever SDHC card you've slotted into the FlashBack.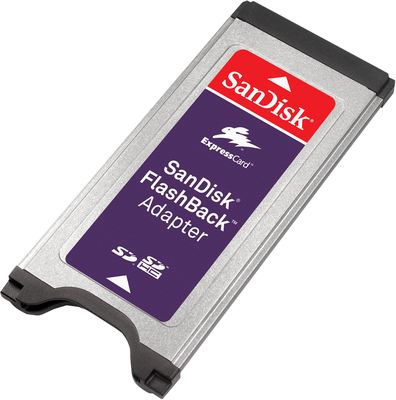 SanDisk's FlashBack: auto back-up to SDHC
The software only runs on Windows and is clearly limited by the capacity of the SDHC card you have installed, though with 32GB coming very shortly, space isn't likely to be too much of an issue for the kind of mobile professionals SanDisk reckons will be interested in FlashBack.
They get to select which files and folders they want to ensure are retained and the bundled software does the rest, keeping up-to-date copies of them all on the FlashBack. SanDisk said it's also bundling BeInSync software to allow data to be also backed up online, though that costs extra.
SanDisk's FlashBack will go on sale around the world in Q2 for around $30 (£15/€20).