CeBIT AMD's 45nm quad-core processors may not yet be ready to buy, but the chip maker said this week it has working versions in the lab running on test machines. It re-iterated its plan to ship the CPUs in the second half of the year.
The desktop version of the part is codenamed 'Deneb', a Socket AM3 part that'll ship as a Phenom chip. There's an Opteron server part too, 'Shanghai', the successor to 'Barcelona'.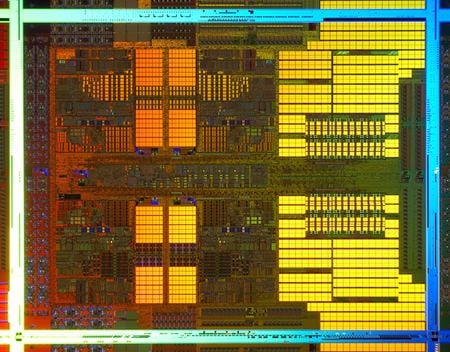 AMD's Deneb: quad-core at 45nm
AMD's 45nm process was co-developed with IBM, though the first, 300mm wafers were punched out at its Fab 36 facility in Dresden, Germany. The fab technology incorporates metal gates with a 'high-k' dielectric material, and AMD talked at length about the production technologies that underpin in its 45nm processors.
However, the bottom line is that the chip maker hopes these techniques will allow it to deliver higher performance without huge increases in clock speed, and therefore significantly higher power consumption - the much-vaunted 'performance-per-Watt' criterion.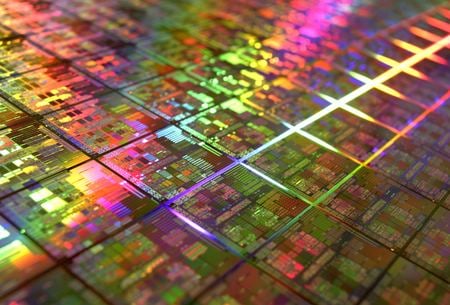 One wafer, many chips
It won't be part of AMD's initial run of 45nm products, but the company said it plans to extend its 45nm process technology to take in ultra-low-k dielectrics "to reduce wire delays by as much as 15 per cent", again with the goal of improving processor performance overall.
Unable to resist a dig at its arch-rival, AMD noted: "A common misconception is that being first to a new process technology generation is the fundamental determinant of performance and energy efficiency leadership. AMD has proven this to be false."
The proof's in the eating, as they say, and with AMD's 45nm products at least three months away, intel's 45nm processors have the edge on performance and energy efficiency.
Related Reviews
• AMD Phenom 9500 CPU