CeBIT Here it is, Asus' Lamborghini ZX1 phone. The Taiwanese company hasn't launched the handset yet, but it did post a small piccy of the thing when it announced its new phone UI at the CeBIT show this week.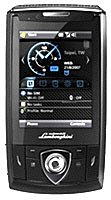 Asus' Lamborghini ZX1: calling all petrol heads
Last week, we heard that the ZX1's nearing launch and likely to sport a 400MHz or faster CPU, touchscreen, 3G connectivity plus Wi-Fi and Bluetooth. GPS is 50:50 - some sources say the ZX1 has it, others say it doesn't.
Asus hasn't added much, but it did say the ZX1 features a "masculine cut that provides the ZX1 with an exquisite yet bold exterior" and that it's clad in "carbon fibre and high grade stainless steel".
The handset runs Windows Mobile 6, and Asus' self-proclaimed "revolutionary" GUI sits on top of the Microsoft OS, much the way HTC's Touch UI does.
Earlier this week, Asus rolled out its latest Lamborghini laptop, the 12.1in VX3.