Review Nokia's approach for the N810 is pretty simple: phone screens are too small for decent web browsing, so surely a separate portable device that has a bigger screen and Wi-Fi connectivity is needed for serious portable web access.
Nokia hasn't regarded size and weight as such restrictive factors. At 228g the metal-cased N810 certainly isn't light, nor at 128 x 72 x 14mm is it small. On the upside, it's very well bolted together and has a very high quality feel to it. If it was any smaller, the 4.13in, 800 x 480, 65,536-colour screen wouldn't fit.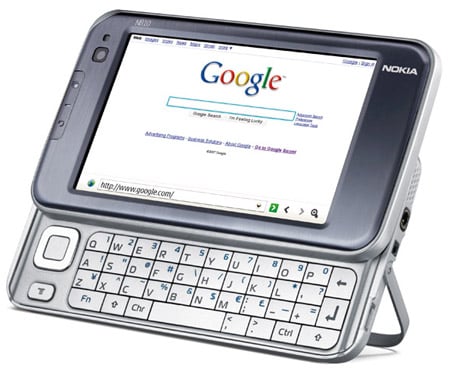 Nokia N810: not a phone, OK?
A quick fiddle with the externals reinforces the impression that this is not a budget device. Slide the top of the 810 up and a full Qwerty keyboard is revealed, and quite a keyboard it is, looking and feeling like the keyboard on a HTC TyTn only twice as big and twice as easy to type on. The fold away metal stand is a nice touch too.
The heart of the N810 is a Linux-derived OS called OS2008. As far as operating systems go it's nothing too flash but it does the job with a minimum of confusion and ambiguity, and more to the point does it quickly. Basic system navigation is performed using a series of tabs and menus accessed on the touch screen. Two further controls on the front left of the device are used, respectively, to bring up a list of currently active applications and to move you back through the current menu tree. All in all it's pretty intuitive and a piece of cake to use.
Set up is ball-bouncingly straightforward. Within moments of opening the box we had the N810 talking to the office WLAN and the home screen set to show a BBC World RSS newsfeed, a web link to the Register Hardware home page, a Google search window, the time and a link to the Radio Paradise web stream. We even found some themes and colours we liked once we'd installed the latest firmware from Nokia.